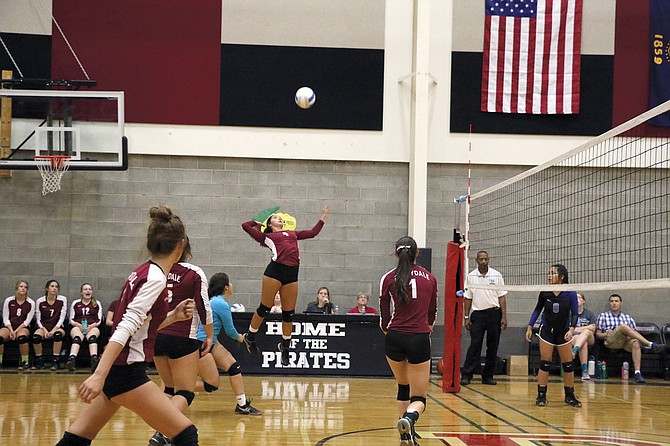 PERRYDALE — Perrydale volleyball coach Denise Dickey wasn't sure how the early part of the Pirates' season would play out.
"Last year we were very young, and I wasn't sure where we would start," Dickey said.
It's safe to say Dickey is pleased with the team so far.
Perrydale improved to 14-2 overall after a 25-13, 25-10, 25-17 victory over Willamette Valley Christian on Sept. 12 — the team's 13th win a row.
"I think we're right where we should be, though I'd like to be a little further ahead offensively," Dickey said. "Our defense, I think, is pretty strong. Isley (Burns) has been stepping up. Alyssa (Lux) has as well, but I'd like to get five consistent hitters on offense."
The Pirates' victory over WVC was never in doubt, but Dickey said the team must play with more urgency.
With seven varsity players, simulating match situations is difficult in practice, making matches against less challenging opponents key to player development.
"They've got to start utilizing these situations a little bit better than they did today," Dickey said. "I think they kind of stepped back on their heels a little bit. We know we have to play hard all the time."
Perrydale has won in straight sets in all but two of its matches. While that level of dominance has led to some relatively easy victories, Dickey said the Pirates will focus on conditioning so they are ready once they get into a challenging match.
"We haven't gone to five sets yet," Dickey said. "That's when conditioning will come into play."
Perrydale's win streak was snapped on Saturday. The Pirates lost to North Douglas 21-25, 25-8, 25-23, 25-13 on Saturday before beating Trinity Lutheran 25-5, 25-7, 25-19.
"North Douglas is a very good team," Dickey said. "They have good offense, which forced us to get out of our system. Perrydale played very well at times, but could not sustain it. But a loss always helps us to work harder to be better the next time we compete."
The Pirates travel to Falls City Tuesday at 6 p.m.
"It's really been a team effort," Dickey said. "I'm excited for them. I want this for them to have that experience and have a chance to go deep at state."