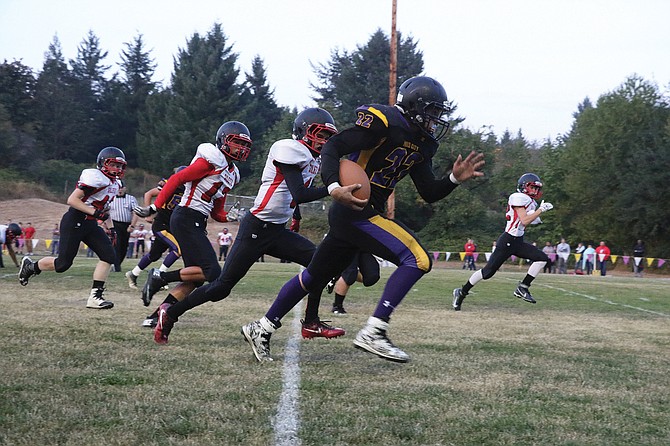 FALLS CITY — At first glance, a 58-0 victory would be cause for total celebration.
Falls City football coach Laric Cook was not as festive as one may expect.
The Mountaineers rolled to a victory over Siletz Valley on Friday, but penalties plagued Falls City — especially early on.
From offsides and false starts to personal fouls, the Mountaineers were their own worst enemy.
"They were anxious to play, but they have to be disciplined," Cook said. "It just shows we're not where we need to be at yet. We can't afford to do that against good teams. It's frustrating on our end."
Penalties were about the only thing Falls City struggled with.
The offensive line paved the way for a potent rushing attack, led by Austin Burgess and Noah Sickles.
"If Austin gets into space, he can turn it on," Cook said. "He's got pretty good speed. Noah has gotten substantially faster. We're not burners by any means, but we've got some kids who are good athletes. Evidently we were blocking well because, my gosh, there were places to run."
On defense, Reid Simmons and Jeremy Labrado each had an interception. The Mountaineers stuffed Siletz Valley's offense.
"I'm not sure they would have had positive yards in the first half if we didn't give them all those yards through penalties," Cook said.
Aside from penalties, it was a dominating victory — one that players hope fuels them forward.
"Our offensive line really executed well tonight," Sickles said. "They opened up holes for the running backs. We came out more excited and with more energy. (This win) gives us a lot more confidence."
A season-opening loss to Dufur, the defending 1A state champions, showed the Mountaineers how far they need to improve before the end of the season — but Friday's victory gave a taste of what it can do if everything is clicking.
"I feel like we're a lot more passionate this year," Sickles said. "We saw what we were able to do last year, and we know we have to take it to another level if we want to keep going."
The Mountaineers may have the key to reaching that new level.
Falls City was scheduled to get a major addition this week — Jesse Sickles.
The senior missed the first two games, but gives the Mountaineers a key addition that can — and will — play multiple positions.
"He'll play outside linebacker on defense," Cook said. "Jesse will come in on offense and play some quarterback and running back, and maybe even some tight end. (Quarterback) Jeremy Labrado kind of makes things go, but Jesse can throw the ball well. If we can give him enough time, that's a pretty good weapon to have with Austin and Jeremy in space. We're hoping to be multifaceted, spread the ball around and be balanced. That's not typical of what I've done in the past."
Falls City plays at Lowell Friday at 7 p.m.
Lowell presents a difficult challenge because of their size, Cook said, but he also believes the pieces are starting to fall into place for the Mountaineers to thrive.
"If we get mentally tough, we'll be able to hang with the big boys," Cook said.