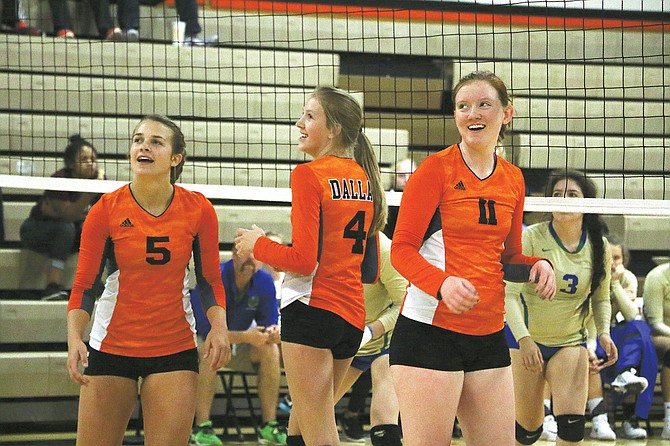 GERVAIS — Dallas junior cross-country runner Trevor Cross finished third at the Mid-Willamette Conference Preview Meet on Sept. 20.
Cross finished the 5-kilometer course in 16 minutes, 6.14 seconds. Drew Roberts, of Crescent Valley, took first in 16:00.67, and CV's AJ Sandvig placed second in 16:04.55.
Dallas' boys squad finished second in the team standings behind Crescent Valley.
Freshman Toby Ruston finished eighth in 17:08.42; sophomore Gavin Grass took 12th in 17:20.78; junior Orion Knudson placed 20th in 17:47.41; and freshman Dillon Stuhr took 27th in 18:10.76 to round out the Dragons' scoring runners.
Junior Bekah Rocak finished 25th in the girls race in 22:58.19. Sophomore Melody Hight took 32nd in 23:40.88, and sophomore Mikayla Thiel placed 33rd in 23:42.39.
"We had a great meet," coach Monique Lankheet said. "All but three runners got a season best. I do value the outcome of the meet, but I also know that things can change. Kids get injured, some kids may not have run, so I know things are fluid, but I am hopefully that if we can work hard, we have gotten some positive feedback that going to state is possible."
Dallas also competed at the Three Course Challenge on Saturday. Cross finished second in the boys moderate course in 19:10.
The Dragons will compete at the Nike Portland XC Invitational Saturday morning.
FOOTBALL FALLS TO GLENCOE: Dallas' football team built a 20-0 lead, but couldn't hang on for the win, losing to Glencoe 40-35 on Friday.
Touchdown runs by Brycen Grillo and Jaret Stewart, and a 27-yard touchdown pass from Stewart to Treve Earhart put Dallas up in the first quarter.
Glencoe scored twice in the second to close the gap to 27-13 at the half. Camden Frizelle scored a rushing touchdown for the Dragons in the second quarter.
Grillo scored his second touchdown of the game in the third quarter, but three touchdowns by Glencoe trimmed Dallas' lead to 35-33 entering the fourth.
Glencoe returned an interception 99 yards for a touchdown in the fourth to take the lead for good.
Frizelle finished the loss with 161 rushing yards and a touchdown. Grillo had 11 carries for 58 yards and two touchdowns.
Dallas (2-2 overall, 0-1 MWC) hosts Central Friday at 7 p.m.
VOLLEYBALL DOWNS CENTRAL: Dallas' volleyball team went 2-0 in league play last week, defeating Central 25-19, 25-14, 26-24 on Sept. 19 and Woodburn 25-12, 25-12, 25-7 on Thursday.
The Dragons also split a pair of matches at the Oregon City Tournament on Saturday. Dallas defeated Gresham 25-14, 25-20 before falling to Canby 25-22, 26-24.
The Dragons (6-7 overall, 2-4 Mid-Willamette Conference) played South Albany Tuesday after press time. Dallas hosts Lebanon Thursday at 6 p.m. before playing at Crescent Valley Tuesday at 6 p.m.
BOYS SOCCER LOSES TWO: Dallas' boys soccer team dropped a pair of matches last week. The Dragons fell to Parkrose 6-0 on Sept. 19 before losing to Sandy 8-3 on Thursday.
Dallas (1-4 overall) played Milwaukie Tuesday after press time. The Dragons close out the nonleague season by hosting St. Helens Saturday at 4 p.m.
Dallas opens league play at Lebanon Tuesday at 4 p.m.