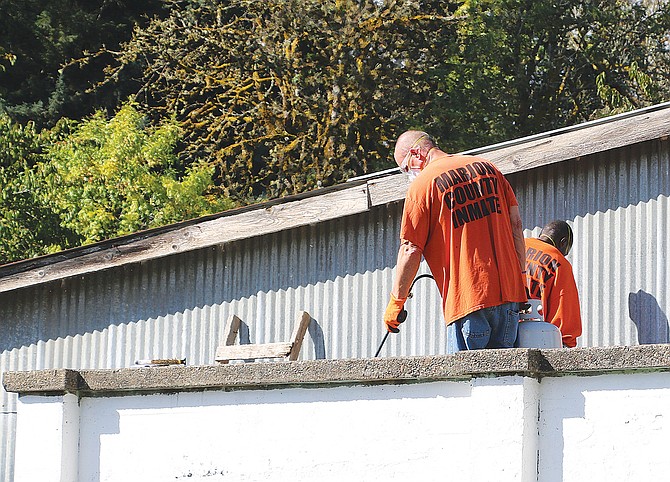 FALLS CITY — With more a than a touch of irony, a crew of Marion County inmates helped restore the building that used to serve as Falls City's jail on Friday.
The Falls City Historic Landmarks Commission launched an effort to restore the city's old jail and turn it into a museum this summer. So far, the commission, led by commission Chairman Mike McConnell, has cleaned and painted the inside.
Marion County Jails — whose commander Kevin Schultz is a former Falls City resident — has offered the project a big assist, helping provide authentic jail cots and bedding, and Friday sending a crew from its re-entry program to help clean up, add a second coat of paint inside and repair the roof.
"It's an opportunity to give back to the community," said the re-entry program counselor Jeremy Gilmore.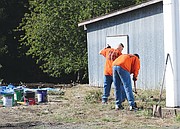 The re-entry program is a transitional treatment drug and alcohol treatment program that had participants serving half the program before they are released and half after they are released.
While still in custody, the participants spend Fridays doing leisure and recreational activities, such as taking a trip to a bowling alley or other forms of drug -and alcohol-free entertainment.
After hearing of the needs in the restoration project, Gilmore thought participants could spend their Friday working. He said doing the kind of work need Friday is a good fit for the program's goals.

"A lot of these guys have skills. If they put them to use they really do well," said program parole officer Steve McNeal.
Gilmore and McNeal were also pleased to move the restoration forward.
"This building has fascinated me since I first saw it 20 years ago," McNeal said.
He thought it was a storage shed — which it may have been at that time — and never realized it's history. McNeal is interested in what the commission finds out about the history of the jail and if they can find a former inmate to describe what it was like to stay in the "Pink Pokey."
Gilmore said he had never been to Falls City before Friday and hadn't been aware the city had a jail.
The crew worked fast in the welcome and warm sun Friday, quickly moving from prepping the roof to picking up yard tools to remove weeds and overgrown grass from around the building.
"It's been really successful," Gilmorme said of the program. "They are learning valuable work skills. These guys thoroughly enjoy it. This beats being locked up."