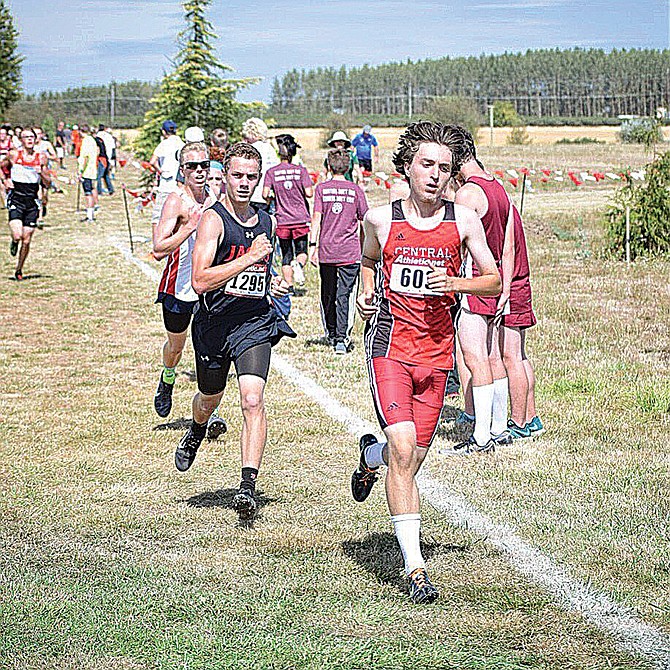 INDEPENDENCE — The Mid-Willamette Conference Preview Meet on Sept. 20 is just that. It offers the first chance for all of the league's cross-country squads to compete against each other in the same place.
"I say it means very little, but it's an indicator of what the rest of the league looks like," Central coach Eli Cirino said.
The Central girls squad finished third at the meet, while the guys finished sixth.
While Cirino said a lot can change between the preview meet and the district meet, the Panthers viewed the race as a measuring stick.
"I was gauging where other people were at," senior Bailie Hartford said. "There were a couple people who were closer to me than before at the Ash Creek race. The preview meet put everyone else in perspective so I could see who I should stick with, and who I should be picking off."
Hartford finished 10th in the girls race in 20 minutes, 44.70 seconds. Junior Jonathon Brown also placed 10th in the boys race in 17:10.28.
Both runners will be key to the Panthers' success, and both are aiming for a breakout.
When Brown was a freshman, he was a non-factor. As a sophomore, he flirted with varsity and won the junior varsity race at districts.
This season, he has continued that development in a big way.
"He's transformed himself as a runner," Cirino said. "He ran as a freshman and was not competitive. He ran JV last year and to go from there to 10th in the league preview meet is awesome."
In previous seasons, Brown would attend practices, but that was it. "I practiced a whole lot more," he said. "I've increased how much I ran and the number of days I ran."
There were multiple days of running 10 or more miles during the summer. It made for some long training sessions, but that work is paying off now.
"It's so awesome to see him having an impact on the league," Cirino said. "Our team sees what he's done and what he's doing now, and it reinforces the whole thing that hard work and dedication can lead to good things."
Hartford has had success before. But there was also a sense of frustration that she wasn't reaching the marks she had hoped.
"Last year, I felt like I couldn't get my times down to where I wanted them," Hartford said. "I felt like I was going fast, but my times weren't adding up to it."
A bigger focus on her own training has led to an experienced runner ready to start picking people off.
"She has a better sense of how she's feeling and how to read her body," Cirino said. "She's responding to that better and doing what she needs to do to run her own race and not get caught up with going out too fast or trying to run with others."
Now, Hartford is eager to end her high school cross-country career with her best season yet.
"I feel more confident when I'm running," she said. "I don't feel like I'm not capable of going fast. I feel like my legs are under me and I can run with whomever I want to."
The Panthers know that the preview meet ultimately means little, but runners hope it is a launching pad to a state berth.
"I think we took away that there is a lot of work to be done," Hartford said. "We want to close some of the gaps between our runners and hopefully we'll go to state as a team."

Central will compete at the Woahink Lake XC Invitational on Saturday.