Dorothy Turnbull, 93, died Thursday, Jan. 4, 2018, in Monmouth. She was born Dec. 3, 1924, in Atlantic, Iowa, the daughter of Lee and Iva Magill. Dot graduated from Atlantic High School, attended Tarkio College, transferring to the University of ...
Elizabeth "Betty" Hartford, 94, formerly of Salem, died Jan. 7 in Junction City. A memorial service will be held March 17 at 2 p.m. at 3723 Hyacinth St., in Eugene. Arrangements by Restlawn Funeral Home.

Darrald was born in Modesto, Calif., on Aug. 3, 1956, to Dewey and Mildred Smith. He moved to Dallas in the '60s with his family. Darrald married Bonita J. Smith (Persons) on Sept. 22, 1979, in Eugene. He was a ...

Thomas Scott (Tom) McDonald, 78, passed away Monday morning, Jan. 8, surrounded by the love of his family. Tom was born on June 8, 1939, to Eugene and Elsie (Muller) McDonald. He joined two older brothers, Bill and Harry. Tom ...
Linda Susan Stark "Dobbs," age 67, of Dallas, joined our Heavenly Father on Jan. 16, 2018, with her husband and children surrounding her at home. Linda battled Parkinson's Disease and Multiple Sclerosis for 27 years. She was born in Denver ...
T. Lee Davis, 83, of Independence, passed away Jan. 7, 2018. Lee was born in Airlie on May 23, 1934, to Anna Olsen Davis and Glen Davis. He was the eighth of nine children; the youngest son. After graduation from ...
John "Bud" Earl Depweg passed away at the age of 87 at his cherished home on Devil's Lake near Lincoln City on Christmas Day, Dec. 25, 2017. Bud was born in Jackson, Mich., on July 7, 1930; the oldest of ...
Janet I. Evans, 75, a resident of Dallas died Wednesday, Dec. 20, 2017, in the Salem Hospital. She was born on Oct. 5, 1942. She is survived by her husband Jim, of Dallas, son Jim Evans Jr., of Walla Walla, ...

Christy Bailey-Prouty, 48, went to be with the Lord on Saturday, Dec. 30. Christy is survived by her husband, Charles and her stepchildren, Amber, Andrew and Amy. Christy was born Christy Michelle Bailey in September of 1969, to Michael and ...
David Lyle Marion, 86, a resident of Dallas, died Sunday, Dec. 31, 2017, in the Salem Hospital. He was born on Sept. 27, 1931, in Ft. Collins, Colo., the son of Louis and Capitola Marion. He moved to Oregon as ...
Sunshine Ailani Goodenough, 6-month-old daughter of Kaliska Dawn Norwest and Justin Blayne Goodenough, died unexpectedly on Friday, Jan. 5, 2018. She was born on July 5, 2017, in McMinnville. She was a happy little girl who enjoyed watching and playing ...

Raymond Noyes, known to most as Ray, was born in Lincoln Park, N.J., in 1953. Music, cars, art, family, books, and cats were constant passions and loves in his life. He could build and understand just about anything, be it ...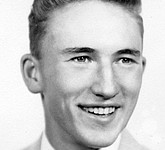 Delmer Warkentin, 81, of Oregon City, was surrounded by his family as he passed away peacefully on Monday, Jan. 1, 2018, at Legacy Hopewell House in Portland. Del is survived by his wife, Pat, of 57 years; daughters Shelley (Gaylen) ...
Robert E. Cox, 85, passed away on Jan. 7, 2018, in Oregon. He was husband to Janice T. Cox. They shared 60 years of marriage together. They were sealed for time and all eternity in the Oakland LDS Temple. Robert ...
Wayne Herschel Bond died on Dec. 29, 2017. He was born Nov. 11, 1939, to James and Jenetta Marks. A memorial service will be held Jan. 6, 1 p.m. at Farnstrom Mortuary, 410 Monmouth St., Independence. Memories and condolences: FarnstromMortuary.com.