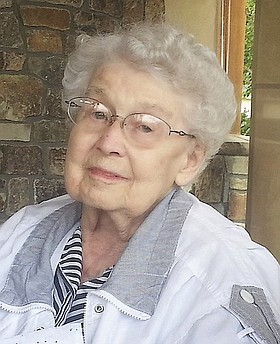 Lavina Anna Brixius
July 17, 1922 - April 2, 2017
Lavina Anna Brixius, 94, a resident of Dallas, died Sunday, April 2, 2017, in the Dallas Retirement Village.
She was born on July 17, 1922, in Henderson, Neb., the youngest of nine children born to Gerhard and Katherine Epp Friesen.
She moved to Madrid, Neb., and graduated from Grant High in Nebraska. During high school, she dated Don Brixius.
He enlisted in the Army Air Corps before World War II while Lavina completed her normal training to be a teacher.
Lavina moved with her parents to Salem at the start of the war, following her two brothers who were already in Oregon.
On April 3, 1942, Lavina and Donald were married in Walla Walla, Wash., while Don was on a 48-hour pass, as he was stationed in Pendleton.
They lived in several places before Don was sent to North Africa. Lyndal, their first son, was born while Don was overseas.
After military life, the young family lived in Denver, Colo., while Don completed watch-making school, and then worked for a downtown jeweler.
Their second son, Terry, was born in Denver. They moved to Ordway, Colo., and opened Brixius Jewelers, which they operated for 13 years. Lavina served as office manager.
In 1959, the family moved to Dallas where Robert "Bob" was born, and they ran Brixius Jewelers until their retirement in the latter 1980s.
Lavina and Don, coming from the Midwest, enjoyed the Pacific Coast and the mountains of the west, and eventually, with two other couples, bought a home on the Central Oregon Coast.
They enjoyed their coast getaways for over 25 years. In retirement, Lavina and Don enjoyed travel to warm Arizona and San Diego climates in the winter for several years, along with travel to Europe once and several ocean cruises. Lavina was a member of the Trinity Lutheran Church, Dallas Woman's Club, and the Dallas Chamber of Commerce.
Lavina is survived by sons Lyndal and Robert. Lyndal has three children, Michael, Stephen and Stephanie. Mike's life partner is Laura Desmond. Steve has two children, Kyler and Amanda; Stephanie has two daughters with her husband Clark Looney, Melissa and Kate.
She was preceded in death by her husband Don and son Terril and all of her siblings.
Viewing will be from 2 to 6 p.m. Wednesday, April 12, (today) in the Dallas Mortuary Tribute Center. Funeral services will begin at 11 a.m. Thursday, April 13, in the mortuary. Private interment will be in the Dallas Cemetery.
In lieu of flowers, a donation to the Jewelers for Children Foundation can be made. This is a jewelry foundation which supports Make a Wish, St. Jude's Children's Hospital, CASA (Court Appointed Special Advocates) and the Glazer Pediatric AIDS Foundation.
Contributions may be sent to 120 Broadway, 28th Floor New York, NY 10271 (www.jewelersforchildren.org), or Brixius Jewelers or the Dallas Mortuary Tribute Center. To leave a message or memory for the family please go to www.dallastribute.com.