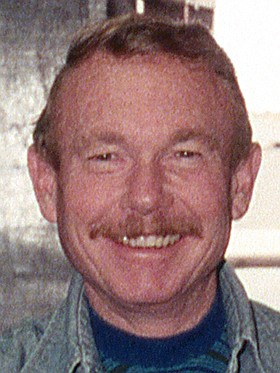 Lee Baker
May 30, 1923 - April 3, 2017
Lee was born in the mining town of Fullerburg, Colo., raised in Virginia City, Nev., and as a boy moved to Southern California with his family.
Lee joined the Naval Aviation and served proudly in World War II.
Lee was stationed on Palm-yra Island in the Pacific and served as a gunner on a Douglas SBD.
After the war, Lee attended college at the University of Maine where he met his first wife and where his son, Gary, was born.
Lee and Gary moved to Southern California to be near family, and Lee worked as a Hermosa Beach Police Officer, a job he loved very much, eventually becoming a detective.
He met and married Susan, and they had daughter Jackie and son Ken.
Lee retired from the police department and the family moved to Oregon in 1980, after falling in love with the Willamette Valley while on vacation the year before.
Lee purchased a beautiful log home on Cooper Hollow Road for his family to enjoy. Lee worked for a short time as a deputy for the Polk County Sheriff's Department, and his patrol included the towns of Falls City and Valsetz.
Lee and his friend and business partner, Jim Burke, opened B & B Guns, a gunsmith shop on Court Street in Dallas.
It was later known as Oregon Police Supply, and Lee loved to provide custom .45 work and teach classes.
Lee and his new wife Ann moved to Arizona in 1987, and remained there for several years before finally moving back to Oregon to be close to his children and grandchildren.
Lee has many friends who are more like family. His friends were always a central part of his life and remained so until his last moments.
Lee lived a full life of fun and adventure. Many envied the stories he told, including a trip to Mexico to meet Pancho Villa's widow; hair-raising close calls as a test-jumper for parachutes while in college; fiery roll-over crashes while a race car driver in Maine and California; fights with bad guys while a police officer; and many, many others.
Lee was constantly remodeling the homes he lived in, always building cars and engines, and collecting and trading guns, which kept him busy and his wife working.
Lee was a wonderful father to Jackie and Ken, taking them with him on adventures across the West Coast.
He provided them a unique childhood, with stories of their own to tell.
Lee is survived by his wife Ann, his faithful companion for over 30 years; also by his daughter Jackie (Doug) and son Ken (Katie); his grandchildren Tom and Amanda; his former wife, Susan (Robert); and countless close friends, including John, Jay, Bruce, Terry, Bill and many more.
Lee died just shy of his 94th birthday, following almost a year in hospice care for kidney failure, proving that he was as tough as nails and embodying the phrase, "They don't make them like that anymore." Services at Willamette National Cemetery will be at a later date.