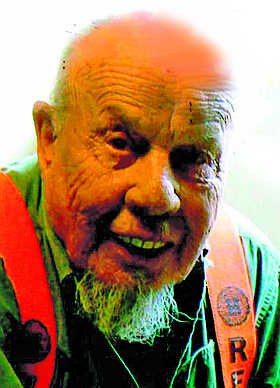 Fred Martin Kochis
unknown - unknown
Fred Martin Kochis
March 2017
Fred Martin Kochis, known to his logging friends as Beaver, died March 2017 in Durkee.
He joined the Merchant Marines at 16 years old and was wounded in Japan. He earned the Bronze Medal during World War II. After leaving the high seas, he moved to Aurora, where me met and married Pauline Wrighthouse.
They moved to Valsetz in 1953, and settled in Falls City for the next 20 years, where they raised Wendell, their daughter.
Beaver found his niche in life as a faller, and spent the rest of his life outdoors doing what he loved.
He log-ged in Alaska and Oregon, and really enjoyed time spent with Stanley Poe, Art Inman, Ben Jay, and the rest of his logging buddies.
His passion was raising bees, growing trees, and the outdoors; his good humor, never meeting a stranger. He was an amazing little Hungarian, proud of his heritage.
He was preceded in death by parents Wendell and Mary Kochis; brothers Tony, George, Wendell, Steve; babies Annie and Johnnie; and sister Mary.
And they called the wind Mariah. His only child, Wendy Flippo, lives in Reno, Nev. One sister, Margaret Ming, lives in California.