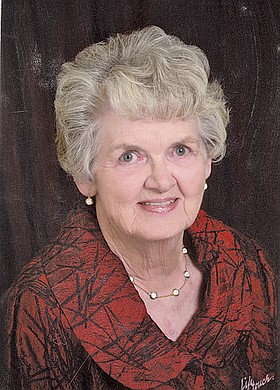 Clara " 'Jean' " Johnson
January 30, 1931 - April 17, 2017
Clara 'Jean' Johnson
Jan. 30, 1931 – April 17, 2017
Clara "Jean" Johnson, 86, of Midland, Texas, passed away on April 17, 2017.
Viewing was from 8 a.m. to 9 p.m. at Nalley-Pickle & Welch Funeral Home on Thursday, April 20, 2017. Memorial services were held on Friday, April 21, 2017, at Wilshire Park Baptist Church at 2 p.m.
Jean was born on Jan. 30, 1931, in Dallas, Ore., to Nelta and Albert Umbenhower.
She enjoyed spending time with her family. She spent her time quilting for her grandkids and great-grandkids. She also liked spending time with the ladies of her church.
Jean is survived by her daughters, Carol Flynn of Houston, Texas, Nancy Burke, of Oregon City, and Joan Koelling, of Colorado Springs, Colo.; grandkids, Heather Fourqurean, of Midland, William "BG" Hamblin, of Portland, Matthew Flynn, of Calgary, Canada, Marcus Flynn, of Salem; great-grandkids, MaKayla Hamblin, Jonathan Fourqurean, Jaydon Hamblin, Jenna Fourqurean; great-great-grandkids, Indica Flynn and Lillian Flynn.
Jean is preceded in death by her husband, Herman Johnson; sisters, Glenda Sexton, Shirley Hogan, Joyce Umbenhower; brother, Rod Babcock; her parents; and one granddaughter.
The family would like to express their gratitude towards Jean's church family at Wilshire Park Baptist Church and the hospital staff at Midland Memorial Hospital.
In lieu of flowers, donations may be made to Wilshire Park Baptist Church, 801 S. Bentwood Drive, Midland, TX 79703.
Arrangements are under the direction of Nalley-Pickle & Welch Funeral Home & Crematory of Midland. Online condolences can be made at www.npwelch.com.