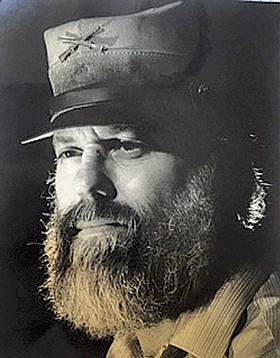 Gary Dean French
November 17, 1941 - April 17, 2017
Gary Dean French died April 17, 2017, at his home in Dallas, with his beloved wife Mickie at his side.
He was born Nov. 17, 1941, to Willard and Violet (States) French in Plentywood, Mont.
Gary was raised on the family farm south of Redstone, and for eight years attended the one-room Phelps school, which was built by his great-grandfather, Elmer Phelps. His great aunt, Elsie Wilberg, was his teacher for many years.
Some of his fondest memories of his youth were being in Boy Scouts and traveling to campouts, including Lake Metagoshie in North Dakota with leaders, Leroy Oksendahl and Al Hardy.
He also enjoyed riding his favorite horse Smokey. He attended high school in Plentywood, where he became known as "Frenchy."
During those years, he lived in Plentywood with his grandparents, Hugh and Mildred French. He graduated in 1959.
Upon graduation, Gary joined the U.S. Air Force and was sent to Lubbock, Texas, for basic training.
When he completed basic, he was asked where he wanted to go and replied, "anywhere but Montana." So … he was sent to Opheim, Mont., 90 miles from home.
He spent just one year there and then to Wiesbaden, Germany, for the remainder of his service. While there, he said the highlight of his service was being in the Honor Guard for John F. Kennedy.
When he left the Air Force in 1964, he began working in the oil fields around Plentywood and Westby.
During that period, he made many lifelong friends. In the early '70s, Frenchy moved to Great Falls, Mont., and went to work for Sante Fe International drilling.
He worked overseas in the oil fields of Saudi Arabia, the UAE, Oman and Nigeria.
He loved traveling and often took his field breaks abroad.
When he was back home in Montana, he enjoyed going to the stock car races, socializing with friends and boating at Holter Lake, where he met his wife-to-be. Gary married Mickie Keck New Year's Eve 1984. They moved to Dallas in 1985.
Gary earned an associates degree in computer technology from Chemeketa Community College in 1988. He then went to work for Intel until his retirement in 2006.
After he retired, Gary thoroughly loved spending time riding his Harley, fishing with his buddy Roger, spinning yarns with his coffee buddies and having lunches with his Intel family. Gary lived a life full of adventure and love. Everyone who was lucky enough to cross paths with him ended up calling him friend.
He is survived by his wife, Mickie; fur babies Harley and Kara; sister Nancy (Peewee) Drazich; brothers Gordon (Jan) French, and Ron (Sherry) Keck, Tim (Dee) Keck; mother-in-law, Sheila Burke; aunts Ardelle and Betty French and Jean Barrett; numerous nieces, nephews, cousins and many dear friends across the country and beyond. Gary was preceded in death by his parents, Willard and Violet French.
Private family gatherings will be held in Dallas and later in Plentywood. In lieu of flowers, the family suggests memorial contributions be made to the Pulmonary Fibrosis Foundation in Gary's name or B.A.C.A (Bikers Against Child Abuse):
Pulmonary Fibrosis Foundation, 230 East Ohio St. Suite 500, Chicago, IL 60611; or BACA (Bikers Against Child Abuse), B.A.C.A of OREGON, P.O. Box 2265, Lake Oswego, OR 97035.
The Dallas Mortuary Tribute Center is caring for the family. To leave a message or memory please go to www.dallastribute.com.