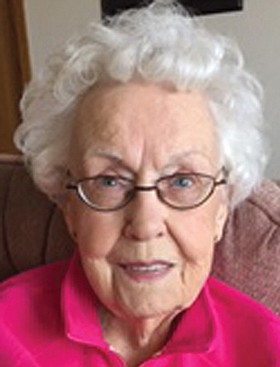 Beulah Schrepel Hindes
August 9, 1921 - August 1, 2017
Beulah Schrepel Hindes, a longtime resident of Dallas, died Aug. 1, in Yakima, Wash. Although she was 95, she was only old for two weeks.
Beulah was the daughter of George W. Schrepel and Ethyl Russ Schrepel, and was born Aug. 9, 1921, in Corvallis.
She attended Oregon State College and married Charles Hindes in 1941.
With a family of four children, she followed her husband on adventures all around the world, including the Philippine Islands and Turkey.
She was a supportive partner in many business ventures, as well as an accomplished weaver, quilter and knitter.
Her kindness, sense of humor and adventurous spirit made her beloved wherever she was known.
She loved her Dallas quilting group, her Yakima knitting circle, and her Bible Study Fellowship groups.
Her inquisitive mind closely followed the space program, current events, other cultures and fashionable jeans.
Keeping up with friends and family proved much easier when she learned to use the internet.
Beulah lived independently and was able to drive until the last few weeks of her life.
She is honored and beloved by her four children: Martha Knudson, Bob Hindes, Ken Hindes, Mary Platt and their spouses. She leaves seven grandchildren, eight great-grandchildren, one great-great-grandchild and many nieces and nephews.
She was preceded in death by her parents, her husband and her four sisters.
Viewing was Sunday, Aug. 6, and a celebration of her life was held at Dallas Mortuary Tribute Center, Aug. 7, 2017, in Dallas. Interment followed in the Dallas Cemetery. www.dallastribute.com.