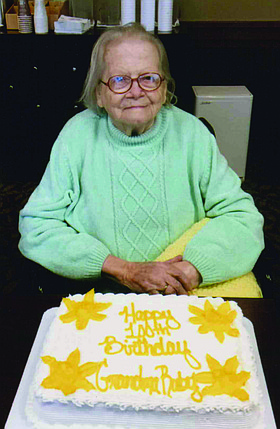 Ruby Lucille Thomas
October 11, 1916 - July 26, 2017
Ruby Lucille Thomas
Oct. 11, 1916 – July 26, 2017
Wednesday, July 26, 2017, Ruby Lucille Thomas passed away at the age of 100. Ruby was born Oct. 11, 1916, near Abilene, Kansas.
She was the third of five children born to Arthur and Ruth Baird.
Ruby had three brothers and one sister. Her parents and all siblings preceded her in death.
In 1936, Ruby married Willard Thomas, of Butler, Missouri. Two children, Glenna L. Pollard and Lyle E. Thomas, were born to this union. They lived in the Rich Hill, Mo., area the first 10 years of marriage.
In 1946, the family boarded a train and arrived in Oregon, settling in the Willamette Valley. Willard working at Francis Farm Equipment and farming on the side. Ruby enjoyed cooking, gardening, and having their many grandchildren coming to the farm for visits in the summer.
Ruby was a member of the Parker Women's Club and Parker Garden Club. She looked forward each year to doing her part in preparing the club's booth at the Polk County Fair.
In 2010, Willard and Ruby moved into Dallas Retirement Village. Willard passed away in 2014. They were married 78 years.
There were eight grandchildren; 13 great-grandchildren; and 15 great-great-grandchildren, of which two sons and one daughter are deceased.
Services were held Aug. 10. Interment was at Restlawn Cemetery. Memorial service was at Dallas Retirement Village.
Editor's note: This obituary was regrettably left out of the Aug. 9 edition of the Itemizer-Observer. The editor offers her sincere apologies and condolences to family and friends.