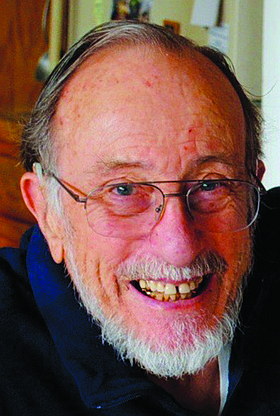 Roland Gerald McCormick
February 20, 1934 - December 24, 2016
Roland Gerald McCormick was born in Edmonton, Alberta, on Feb. 20, 1934. In 1947, his family moved to Dallas, where he attended Dallas High School. He earned a teaching degree from the Oregon College of Education, and in 1955, married his high-school sweetheart Joyce Bartel.
After he served overseas in the Navy, Roland and Joyce settled in Albany, where Roland taught at Lafayette Elementary. His career as a beloved teacher spanned 33 years, several schools, and nearly 1,000 students. Specializing in fifth grade, he cared deeply for each student, inspiring and challenging them. He also earned his Master's in education from OSU.
In 1965, Roland, Joyce, and their children moved to New Hampshire and then Woodstock, Vt. In 1974, Roland and Joyce fulfilled a lifelong dream: purchasing land and building a house outside Independence. After retirement, they traveled frequently across the globe, and last July, celebrated 61 years of marriage.
Roland was a devoted husband, a loving father and grandfather, an avid reader and scholar, and a talented musician with a rich baritone voice who loved singing hymns with his family and in church. Above all, he was a committed Christ follower who shared the love of Jesus with everyone he encountered. After 82 years on earth, this chapter of Roland's life has ended, but we know that Christmas Eve 2016 marked the day his true story with Jesus began. He leaves behind a family who misses him greatly: his wife, three siblings, three children, and six grandchildren.
Roland supported younger generations worldwide. If you would like, consider making a donation or sponsoring a child through World Vision in his memory. A service to remember and celebrate Roland's life will be held on Feb. 11 at 2 p.m. at Riverside Baptist Church, 1300 NW Springhill Drive, Albany, 97321. Online memories and condolences can be shared at www.dallastribute.com. The Dallas Mortuary Tribute Center is caring for the family.