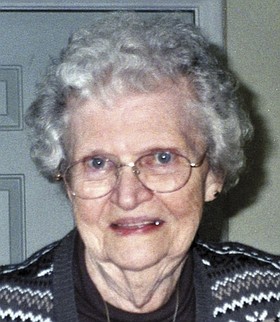 Florence L. Bowman
July 5, 1923 - February 1, 2017
Florence L. Bowman, 93, a resident of Salem and formerly of Dallas, died Wednesday, Feb. 1, 2017, in the Salem Hospital.
She was born on July 5, 1923, in Dallas the daughter of David B. and Sarah Fast Reimer.
On Jan. 31, 1947, she married Clarence J. Bowman in Dallas.
Florence lived her life in Dallas accept for the last 10 years.
She worked in canneries in Dallas and the Oregon Fruit Company in Salem for many years.
She enjoyed crocheting, gardening, jigsaw puzzles and feeding birds, particularly hummingbirds.
She is survived by her daughter Bonnie Hust, of Salem; son Roy (Glennda) Bowman, of Dallas; and daughter Connie Sue Bowman, of Salem; along with 11 grandchildren and 19 great-grandchildren. She was preceded death by her husband Clarence, sister Linda, brothers, Paul, Ernie and Herman.
Viewing will be from 2 to 5 p.m. Sunday, Feb. 5 in the Dallas Mortuary Tribute Center.
A funeral service will begin at 11 a.m. Monday, Feb. 6 in the mortuary.
Interment will be in the Oak Lawn Memorial Park in Corvallis.
To leave a message or memory for the family please go to www.dallastribute.com.