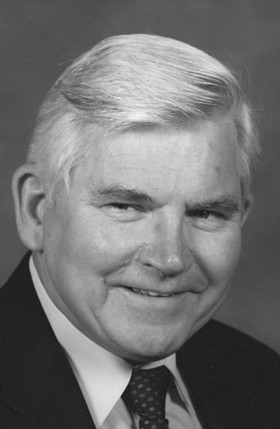 Charles R. Haze
May 19, 1929 - February 5, 2017
Charles R. Hazel, a long-time resident of Dallas, passed into the Lord's care on Feb. 5, 2017.
Charlie was born May 19, 1929, in Indianapolis, Ind.
He was the first of Samuel and Lucille Hazel's seven children.
Charlie grew up in Indianapolis and then attended high school in Bloomington, Indiana.
He then came west to California, where he started his stint as a tech sergeant in the USAF from 1947 to 1956, and where he met Doris Pierre on a blind date; they married three months later on Sept. 15, 1951.
While in the USAF, they lived in Northern California, Illinois, and Germany before returning to Northern California.
Charlie and Doris had started their family and he entered higher education, which was a testament to his intelligence and determination because he had not graduated from high school.
He started at Santa Rosa Junior College, earned his master's at Humboldt State College and his doctorate at Oregon State University.
The family ventured back to the Sacramento, Calif., area where Charlie started working at the Department of Fish and Game before taking a position at the environmental/engineering firm of Jones and Stokes Associates.
He finished his career there as the CEO. Charlie and Doris both retired in 1989 and moved back to Oregon.
In retirement Charlie enjoyed many of his interests; golfing, reading, camping, hiking, fishing, church, and family.
Charlie was a member at Dallas First Presbyterian Church, where he served as an elder and attended weekly Bible study with "the old farts club."
He served proudly and enthusiastically with Habitat for Humanity, Rotary, and Polk County Soil and Water Conservation District.
Charlie led his family with love and practiced his faith daily.
He loved God and honored Doris always.
He was preceded in death by his parents, brother Max, and sister Cindy.
He is survived by his loving wife Doris; his daughters Charlotte Hazel, Roberta Lindenfelser, and Suzanne Ryans; five grandchildren; six great-grandchildren; brothers Bob and Bill Hazel; and sisters Barbara Canfield and Linda Goins. Charlie also loved his dogs, and we know he was happy to reunite with them all.
Memorial services were at 1 p.m. on Saturday, Feb. 11 at the Dallas First Presbyterian Church.
In lieu of flowers memorial contributions welcomed for the church or Habitat for Humanity in care of Bollman Funeral Home, 694 Main St., Dallas, OR, who is caring for the family.
To leave an online condolence or share a memory for the family go to www.dallastribute.com.