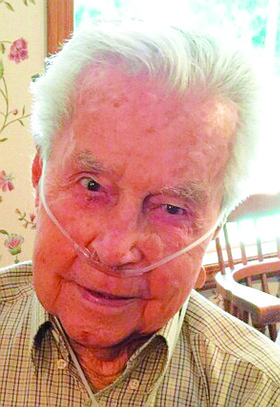 Warren Buell Vesper
May 1, 1919 - February 3, 2017
Warren Buell Vesper, passed away peacefully in his West Salem home on Friday, Feb. 3, 2017.
He was born on May 1, 1919, in El Paso, Texas, the second son of Charles and Grace Vesper. Warren married Virginia Schooley on May 4, 1940. They celebrated 75 years of marriage in 2015.
After serving in the U.S. Navy, Warren and Virginia moved with their two little daughters to Burbank, Calif., where he worked at Lockheed Martin Aircraft, working in the "Skunk Works" division.
Warren was the group engineer of 40 men, involved in the development of the U-2 spy plane and other special projects.
Warren and Virginia retired in South Lake Tahoe, Nev., where they resided for 27 years.
Warren loved tennis, golf, fishing, hiking, and snow skiing.
He shared these skills with the beloved younger members of his family.
Warren was an accomplished artist and wood worker.
After a separation of 18 months, Warren is with his precious Virginia again.
He is survived by his daughters, Karen (Paul) Box, Linda (George) Potsic; along with 11 grandchildren; and 18 great-grandchildren; and one great-great-grandchildren arriving in September.
Funeral services were Monday, Feb. 13, at 9 a.m. at Dallas Retirement Village Chapel.
Visitation will be on Saturday and Sunday from 1 to 5 p.m. at Dallas Mortuary Tribute Center.
Memorial contributions may be made to Kindred Hospice in care of Dallas mortuary Tribute Center.
To leave online a condolence or share a memory with the family go to www.dallastribute.com.
Warren will be remembered as enriching every life he touched: A most loved man, living forever in our hearts.