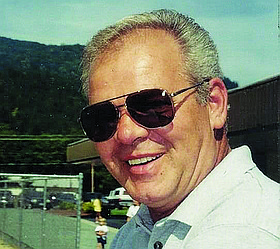 Dickie Lee Wyscaver
April 15, 1947 - February 14, 2017
Dick Wyscaver, of Dallas, died Tuesday evening on Feb. 14, surrounded by loved ones.
He was born in Superior, Neb.
Dick was preceded in death by his mother, Donna, and his youngest brother, Donnie, as well as his two beloved animals, Shilo (dog) and Sugar (cat).
He is survived by his father, Howard (partner Alama); his brother, Terry (wife Kathy and family); his loving wife, Carole; his daughters Ronnie (husband, Tony and family), Michelle (husband, Shawn and family), Jody (husband, Harley and family); and sons Jon (wife Gwinn and family), Brad (wife Vonda and family), and Rod (partner Michelle and family); and many in-laws, cousins, and friends who loved him dearly.
He lived in Newport until he moved to Valsetz during his sophomore year of high school.
He graduated in 1966 and married his high school sweetheart, Carole Stamps, in November that same year at the Valsetz church, where Mr. Bittner officiated the ceremony and his wife, Mrs. Bittner, played the piano.
Dick and Carole recently celebrated 50 years of marriage this past November.
Dick worked at the Valsetz mill until 1969, when he moved his family of five to Douglasville, Ga., where he began working for Georgia Power Company as a lineman and was later promoted to a management position.
While there, he and Carole expanded the family by another two children.
Homesick for family, they decided to move back to Valsetz, and he went back to work at the Valsetz mill.
A short time later, their last baby was born, completing their family of six children.
In 1983, Boise Cascade announced that they would be closing the mill, and he began working in Roseburg for Roseburg Lumber.
Dick, along with some other co-workers, traveled back and forth from Valsetz to Roseburg for work weekly until his children completed that school year.
His family then relocated to Roseburg and lived there for the next 10 years.
In 1994, he began working for Specialty Polymers in Woodburn, and he and Carole relocated to Dallas where they resided until his death.
Dick enjoyed hunting and fishing, and watching his children and grandchildren playing sports.
His greatest joy in life was when he was able to spend time with his family; which included 18 grandchildren and seven great-grandchildren. He will be greatly missed.
Celebration of Life was held Saturday, Feb. 18, at Orchard Heights Winery.
In lieu of flowers, memorial contributions can be made to Willamette Valley Hospice in Dick's name.