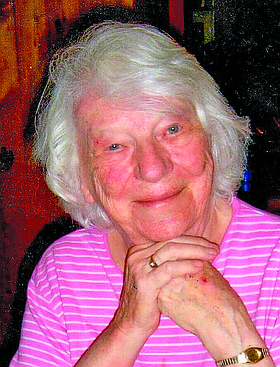 Eugenia "'Genie'" Gorchels
August 17, 1921 - February 13, 2017
Eugenia Gorchels was born Aug. 17, 1921, to Leah and Eugene Hayes, their only child.
Bright in school, she skipped two grades and graduated from high school at the age of 17.
At 17, she met her future husband Clarence Gorchels. Their first date was watching a basketball game.
When he developed tuberculosis, she waited for him to recover. They were married June 16, 1945.
Their honeymoon was a road trip amid gas rationing from Wisconsin to Pullman, Wash., to his first job.
Genie started teaching school at age 18 in a one-room schoolhouse.
She continued teaching, earning her master's degree from Washington State University.
Most of her teaching was at Monmouth Elementary School for 23 years. She was honored as the Teacher of the Year for 1974-75, and was the head teacher for many years.
She loved teaching math, especially to second-graders. She retired at the age of 68, concluding a 50-year teaching career.
In her mid-40s, she started traveling the world with Clarence.
They started with Europe, but soon visited the Soviet Union, Micronesia, the Straights of Magellan, and many other destinations. They spent one Christmas in Turbuelcto, sharing a can of tuna.
Her favorite travel was on cruise ships, and she enjoyed multiple cruises with Clarence.
After her retirement, she was able to spend more time playing bridge, a passion since early adulthood.
She was a member of several local bridge groups, some of which she organized. She taught bridge to many. She was able to play bridge at the Monmouth Senior Center until mid-2016. She was also an avid reader.
Genie developed senile dementia the last few years of her life, but was able to stay in her own home, under the care team of dedicated and remarkable caregivers.
She passed away in the early hours of Feb. 13, 2017. Perhaps her late husband Clarence wanted her to join him in eternity for Valentine's Day.
She is survived by her four children, Cathy, Chris, Melissa and Greg; seven successful grandchildren; and six young great-grandchildren.
Instead of flowers, memorials to the Monmouth Elementary School, the Monmouth Senior Center and the Monmouth Public Library are welcome.
May she rest in peace.
A funeral service was held Sunday, Feb. 19, 2 p.m. at Christ Church, Monmouth. Arrangements are in care of Farnstrom Mortuary. Memories and condolences at FarnstromMortuary.com.