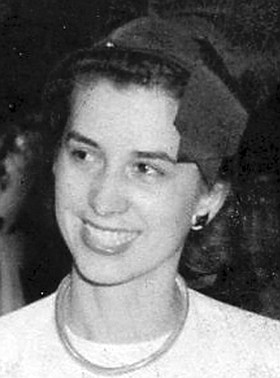 Lillian Clare Kaczka
August 10, 1917 - January 5, 2017
Lillian was born to John and Louise Chrapla, who had immigrated from Poland and began American life in Neodesha, Kansas, in 1911.
Lillian was the youngest of five children. She was born in Collinsville, Okla. The family eventually moved and settled in East Chicago, Ind.
Growing up, Lillian was best pals with her brother Adolph and had fond memories of "babysitting" her niece Patty and possibly Arlene also. She was the valedictorian of her graduating class at Roosevelt High School.
She loved to play tennis, and she and her future husband Chet won trophies together. She began work as a secretary, and maybe that and her schoolin' were the beginnings of her lifelong organizational skills.
She and Chet were married on June 8, 1940, in East Chicago.
After Chet returned home from service in Europe in World War II, they made a pretty bold move to Phoenix, Ariz., in 1948. Lillian loved the "wide open spaces" of Arizona.
The population of Phoenix at the time was roughly 90,000. They had a house built in "the county." They both loved their new life there, and they raised their two sons in that house, which is now in the midst of other houses for 30 miles in every direction.
In the mid-1950s, her husband opened Chet's Paint and Wallpaper, and together they owned operated what became a well-regarded business for over 25 years.
Lillian would come into work after the sons were off to school, and be back home by the time they returned. She was a lifelong devout Catholic and was active at St. Agnes Church and St. Agnes School.
Her family and friends enjoyed the fact that somewhere along the way she became an accomplished pianist.
The Kaczka household had an "open house" every Christmas Eve where many looked forward to, and enjoyed, friendship and the unending amounts of traditional Polish food prepared by Lillian.
It was difficult for Chet to get around to retiring, he loved what he did, but he did get around to it and they successfully sold the paint store and business.
He and Lillian began playing tennis again, and enjoyed travelling by car to many far-off places in the U.S., including trips to Oregon to see their new granddaughter and then a grandson.
After Chet passed away too soon in 1984, Lillian spent much of her time involved at St. Agnes Church and had several extended stays in Oregon.
She was a significant part of her grandkids' early years, and we all have fond memories of those days.
In the mid-1990s, she moved to Oregon for good. She was fortunate and grateful to make many friends at St. Phillip's Church in Dallas. She was likely an inspiration to many.
Lillian enjoyed going to the summer outdoor music events in Dallas.
In her 80s, she discovered word processors and got a kick out of sending out intermittent volumes of the "Family Noospaper" that she created, containing news, history, and whatever else came to her mind.
Linda Holmbo, Delaine Tankard and Pat Easterly were a big help to Lillian as she grew older.
She spent her last 2 3/4 years, and was cared for with excellence, by the many caring people at the Dallas Retirement Village Health Center, and also in her last days, by the nurse and musical therapists from Willamette Valley Hospice.
Lillian was the last of her generation in the Chrapla and Kaczka families.
She was preceded in death by her husband Chet and her son Joe.
She is survived by her son John; grandchildren Mary and Eli; and great-grandchildren Maggie, Kiley, and Penny.
A memorial Mass will be held at St. Phillip's in Dallas on Thursday, Jan. 12 at 11 a.m.
Lillian will be interred alongside her husband Chet in Phoenix, Ariz., at a later date.
Dallas Mortuary Tribute Center is handling the arrangements. We appreciate the help provided by the Bollman family and their associates.
The family suggests that, if you are so inclined, memorial donations be made in Lillian's name to an organization that does a good job of working for a cause that is important to you.
To share an online condolence go to www.dallastribute.com.
May she rest, in peace.