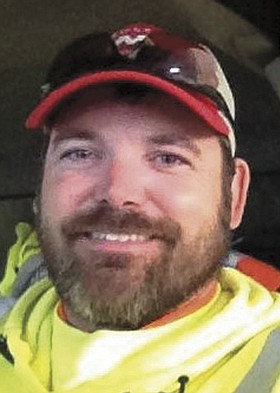 David Michael Schrock
August 22, 1975 - January 9, 2017
David was a loving husband and father, proud of his family, with a contagious smile and gentle soul. Everyone he met knew he loved God, his wife, and his sons above all else.
He was a strong warrior in the Lord's army; full of God's love for all who crossed his path. David was a proud lineman for more than 20 years, serving primarily the Pacific Northwest, and occasionally the nation, in times of need.
He brought hope to many in literally dark times, with the arrival of his crew during power outages. David lived a full, well-lived life, and his family is so proud of him.
He went to meet his Lord Jan. 9, 2017, doing what he loved and serving others in need — being a lineman.
He will be loved and remembered by his devoted wife, Holly; sons Wyatt (age 15) and Levi (age 12); parents Leslie and Robert Cummings and Duane and Susan Schrock; siblings JonnaVe Stokes, Tamera Klooster, Sara Schrock, Hannah Schrock, Garett Schrock, Natalie Collins-Moon, Gregory Cummings, and Leigh Ritter; as well as many grandparents, nieces, and nephews.
A celebration of life will be held at Waldport Foursquare Church (180 Huckleberry St., Waldport) on Jan. 16 at 1 p.m. A GoFundMe account has been established in his memory.