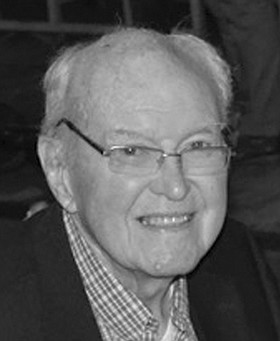 Jeremiah (Jerry) Francis Cotter
November 6, 1924 - January 10, 2017
Jerry Cotter, a kind gentlemen of the "Greatest Generation," passed away peacefully at home and left for Heaven, Tuesday, Jan. 10, 2017. Jerry was born Nov. 6, 1924 in Seattle to Helen and Jerry Cotter. He grew up in Burley, Idaho, and Lakeview.
With the outbreak of World War 2, he enlisted in the Navy serving aboard the aircraft carrier USS Makin Island as navigator and helmsman.
He returned back to the states and attended Oregon State University. While attending college, he married his high school sweetheart, Evva Hickman.
During his college years, Jerry worked at the Corvallis JC Penney store, following in his father's footsteps. Upon graduating from Oregon State, Jerry joined the company, being promoted and transferred to many different JC Penney locations.
He eventually settled in Dallas, where he spent the last 55 years.
During his JC Penney career, he also served as the first president of the reorganized Dallas Chamber of Commerce and belonged to the local Rotary club. He was an active longtime member of St. Philips Catholic Church.
Jerry and Evva lovingly raised two children, Jerry Cotter and Patty Cotter (Delph)
In 2005, his beloved wife of 59 years passed away, leaving Jerry a widower. In 2006, he met Helene Holtzinger through church activities and the two were married in June 2006.
They made their home in Dallas and had 11 wonderful years together, and were active up until Jerry's passing.
Surviving members of the family include his wife Helene Cotter; children Jerry Cotter Jr., Patty Delph and their spouses Laurie Cotter and Rick Delph; sisters Joanne Stathos and Jeanette Chaffee; stepdaughters Judith Holtzinger, Marianne Holtzinger, Marlene Mooney, Carolyn Hochanadel, Ann Blyth, Kathy Crowle; stepsons Bill Holtzinger and Michael Holtzinger; numerous grandchildren and two great-grandchildren, who he had just recently met.
A recitation of the rosary was at 10:30 a.m. followed by an 11 a.m. Mass of a Christian Burial Monday, Jan. 16, at St. Philips Catholic Church in Dallas. Interment was Tuesday, Jan. 17, at 9:30 a.m. at Willamette National Cemetery in Portland. The Dallas Mortuary Tribute is caring for the family.
To leave a memory of message for the family please go to www.dallastribute.com.