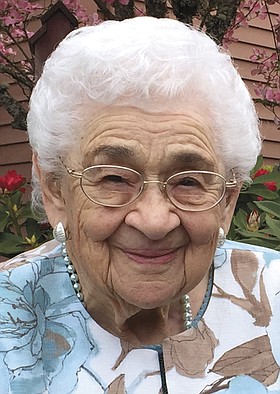 Millie (Wiedmann) Schrenk
April 29, 1914 - January 9, 2017
Millie (Wiedmann) Schrenk went to be with the Lord on Jan. 9, 2017. Millie was born in Venturia, North Dakota, on April 29, 1914, to John and Katharina (Haas) Wiedmann.
Millie attended elementary school in Venturia, high school in Ashley, N.D., and college in Ellendale, N.D., where she received a teaching certificate.
Upon graduation, she taught elementary grades in Venturia and Ashley.
On June 29, 1941, Millie married Ephraim Schrenk at the Venturia Baptist Church. They made their home in Ashley until 1945, when they moved to Venturia where they purchased a General Merchandise store.
Their sons Maurice and John joined the family during these years. In 1960, they moved to Dallas.
Millie enjoyed teaching, but also loved becoming a stay-at-home mom. She enjoyed cooking, baking and entertaining friends at her home.
When her children had grown, she went back to work at Dallas High School as a cook until she retired in 1976.
She was an active member of the churches wherever she lived and taught Sunday School most of her life. She always enjoyed children and young people.
She was a member of the ladies organizations and served as a Deaconess and Social Chairperson at Salt Creek Baptist Church.
She also did volunteer work for the senior centers' lunch programs in Dallas and Salem.
Millie was preceded in death by her husband Ephraim; her son Maurice; and sisters Idalia and Adeline.
She is survived by her son John and daughter-in-law Lois, of Salem; and two grandchildren, Aaron, of Tacoma, Wash., and Katie, of Manhattan Beach, Calif.
Millie felt that her children and grandchildren were such a blessing to her, and she prayed for them daily. "I have no greater joy than to hear that my children walk in truth," 3 John 1:4. Millie's shining example of God's love in her life and her deep love of her family will be missed greatly.
A memorial service will be held at Salt Creek Baptist Church in Dallas on Thursday, Jan. 19, at 2 p.m.
Arrangements are being made by Dallas Mortuary Tribute Center. Memorial gifts may be given in her name to Salt Creek Baptist Church or the charity of your choice.
To share an online condolence, go to: www.dallastribute.com.