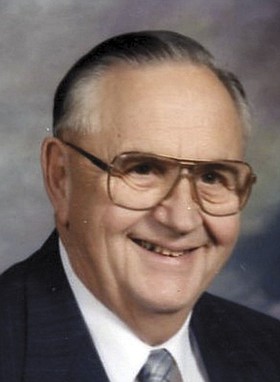 John J. Morris
January 9, 1925 - January 22, 2017
John J. Morris, of Dallas, moved to his heavenly home on Jan. 22 at the age of 92. John was born in Canby on Jan. 9, 1925, to Glen E. and Elva (Schultz) Morris.
John worked in the Lumber Industry and began his career in 1947 first in Molalla, and then Valsetz, before working with Willamette Industries in Dallas as a Lumber Grader for over 40-some years.
He married Miriam Rempel in Dallas on Feb. 11, 1949, and together raised three children.
John was a very active person and loved to hunt, fish, travel and camp, but mostly he loved to volunteer and help anyone who needed it.
At one time, he participated in helping out at the senior center, working as a tour guide at Willamette Industries, and even helped build Grace Mennonite Church, which is now Grace Community, without expecting any compensation.
John was an active member of Evangelical Bible Church in Dallas and a lifetime member of local union 2714.
John is survived by his wife Miriam; children Bob Morris, Roger Morris and Chris Rupp; sister Marge Rabe; three grandchildren and six great-grandchildren. He was very proud to be an identical twin to his brother Jonas Morris, who preceded him in death, along with his other siblings Frank Morris and Iola Sebern.
A memorial service will be held at 2 p.m. on Thursday, Jan. 26, 2017, at the Chapel of Dallas Retirement Village. A visitation will be Wednesday, Jan. 25, 2017, from 10 a.m. to 5 p.m. at the Dallas Mortuary Tribute Center, who is also caring for the family.
Online condolences can be made at: www.dallastribute.com.