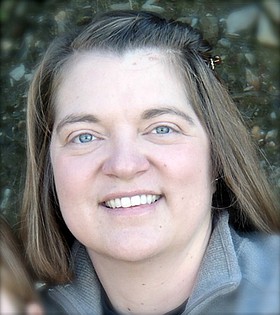 Krista K. (Hergenrether) Ray
December 1, 1972 - January 21, 2017
Krista K. (Hergenrether) Ray, 44, of West Salem, formerly of Dallas, passed away peacefully at home on Jan. 21, 2017. Krista was born Dec. 1, 1972, in Medford.
Growing up in the Medford area, Krista was active in Job's Daughters, 4-H, Junior Comets, and Rotary Exchange. Krista spent her senior year of high school as an exchange student in the Netherlands. She graduated from Crater High School in Central Point in June of 1991. After graduation, she attended the University of Oregon, earning her Bachelor of Arts degree in psychology with a minor in special education. Upon graduation from the University of Oregon, Krista worked for the State of Oregon in the Social Services Office, first in Roseburg, and later in the Medford and White City offices.
In 1996, she married her high-school sweetheart, Tim Ray, also of Medford. In 2002, Krista and Tim welcomed their first child, a son, Tyler. In 2005, Krista and her family moved to Dallas, where their daughter, Kendall, was born. Krista was a devoted and loving mother to Tyler and Kendall, as well as many other children and families in her life. She volunteered in the Dallas schools, helping start the Lion's Den program at Lyle Elementary while being an educational assistant. She was an active member of the Grace Community Church while living in Dallas. In 2014, Krista moved to Columbus, Ohio, for two years before returning to West Salem in 2016.
Her family was the joy of her life and Krista spent many hours watching her children play soccer and t-ball. She was an active photographer and scrapbooker, making many albums and memories for her family. Krista also was an FFA mom to many of Tim's students.
Krista was first diagnosed with breast cancer in the summer of 2008. Through hard work, fantastic doctors, and very aggressive treatments, she conquered cancer and went into remission for several years. In the fall of 2013, the cancer returned. Doctors in both Oregon and Ohio worked very hard to control and contain the cancer. Krista remained determined and continued to fight with all her might. Unfortunately, the cancer was too aggressive and eventually exhausted medical options.
Krista is survived by her husband Tim Ray and their two children Ty and Kendall of West Salem; her parents, Richard and Lorena Hergenrether; her sister Kimberly; and her nephews Loren and Noah, of Grants Pass; and numerous aunts, uncles, cousins, and nephews.
A celebration of Krista's life will be held on Saturday, Jan. 28 at 1 p.m. at Grace Community Church in Dallas. In lieu of flowers, the family requests donations be made to any cancer research or cancer support group in the name of Krista Ray in care of Bollman Funeral Home, 694 Main St., Dallas, OR 97338, who is caring for the family.
To leave an online condolence for the family go to www.dallastribute.com.