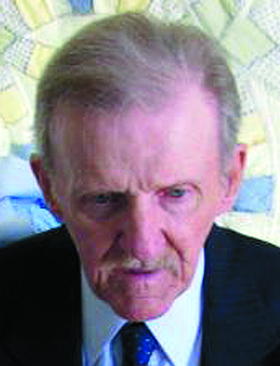 Thomas 'Tom' Padden
unknown - June 5, 2017
Thomas Padden passed away on Monday, June 5, at his home in Boise, Idaho, at the age of 83.
Tom lived in Redmond for eight years, from 1996 to 2003, when his wife, Rita, was working at the Redmond Library.
Tom was a U.S. Air Force veteran, where he was employed as an airplane mechanic.
He spent most of his career as a salesman, selling cars on both coasts of the United States.
Tom would have liked to have been an actor — and came close enough to make a story out of his experiences, when he tried out and got a call back for a production that involved Bert Lahr, of "The Wizard of Oz," prior to Lahr's death in 1967.
He loved animals, especially the many bull terriers that he had, and his cat, Poe.
He was a faithful San Francisco 49ers fan, loved automobiles, and was very knowledgeable about the history of classic cars.
He is survived by his wife, Rita, to whom he was married for 45 years; his sons, Colin and Kevin Padden; daughters-in-law Shannon and Stacy Padden; and two redheaded grandsons, Kai and Eli Padden.
During his healthier years, he was a regular dog walker and enjoyed socializing with neighbors and friends in Dallas.
He loved the Bay Area and trivia game shows.
Friends and family considered him a great storyteller with a good sense of humor.
He was resilient and lived through many lives. Tom was not afraid to speak his mind or offer opinions about a wide range of topics. He will be missed.
May the road rise to meet you.
May the wind be always at your back.
May the sun shine warm upon your face.
And rains fall soft upon your fields.
And until we meet again,
May God hold you in the hollow of His hand.
A private family ceremony will be held in Central Oregon in Tom's honor.