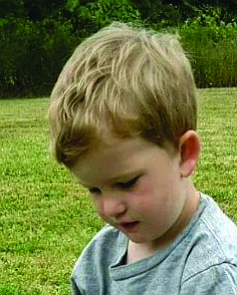 Bryan Daniel Ogden-Scott
April 10, 2014 - July 14, 2017
Survived by Billie King mother; Donald Scott, father; Beverly Scott, stepmother; grandparents, Lynette Donahou, Betty Scott, Danny Scott, Bryan Ogden; great-grandparents, Roger and Donna Donahou, Raymond and Jessie Ogden; sisters, Aireona Marie, Amanda Ray, Samantha Cheyenne, Starlette Marie; brothers, Cody Lee, Sean Nicholas, Robert Lee; aunts, Samantha, Taysia, Brandi; and Uncle Alex.
Bryan was the happiest child this world has ever known.
You couldn't help but smile and laugh when he was around, just an all-around gorgeous, silly kid and 100 percent all boy.
He loved his family, his Blazer and his dinosaurs with all his might and spread that love and joy through the hearts of everyone whom was blessed to know and love him. When Bryan left, he was holding the hand of his stepfather Jeremy King.
A memorial service will begin at 11 a.m. on Saturday, July 22, in the Dallas Mortuary Tribute Center. Interment will follow in the Dallas Cemetery. To leave a message or memory for the family please go to www.dallastribute.com.