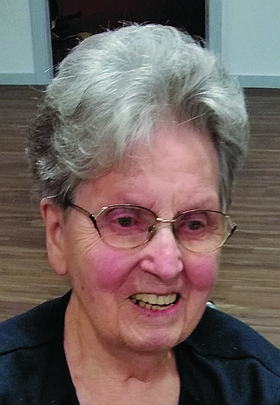 Charlene Bartel
March 21, 1926 - July 8, 2017
Charlene BartelMarch 21, 1926 – July 8, 2017
Charlene Bartel, 91, a resident of Dallas, died Saturday, July 8, 2017.
She was born on March 21, 1926, in Milan, Mo., the daughter of George and Lena Hudnall Scriven, but was raised by Charles Rupke as her father.
For many years, Charlene worked at Haas Drug Store as a clerk. She retired in 1960. In November of 1960, she married Harvey C. Bartel.
She is survived by her husband Harvey, of Dallas; son Mark Bartel, of Kent, Wash.; daughter Judi Rainwater, of Wenatchee, Wash.; stepdaughter Sheri Tonn, of Tacoma, Wash., and Lavon Bartel, of Steuben, Maine; along with six grandchildren Angie, Roxie, Scott, Melinda, Alex and Kristian; and several great-grandchildren.
She was preceded in death by a son Jim Rainwater in 2016.
Special thanks to caregivers Mabel Villwock, Susan Wilcke and Sharon Wilcke.
A private burial will be in the Salt Creek Cemetery. The Dallas Mortuary Tribute Center is caring for the family.
Anyone may go to www.dallastribute.com and leave a message or memory for the family.