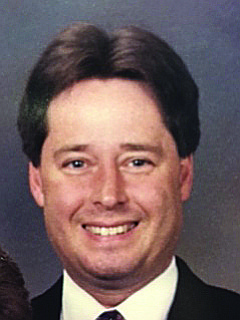 Glen Louis Sedivy
January 2, 1957 - July 18, 2017
Glen Louis Sedivy, 60, of Vancouver, Wash., passed away peacefully on Tuesday, July 18.
He was the husband of Rose Sedivy and father to James and Kysa.
He was the youngest child of the late Edwin and Winona Sedivy, of Monmouth.
Glen was an active person who went for the gusto in life and took pleasure in finding the details of excellence.
He loved his gourmet food and splendid wines. His gardening skills were the envy of his neighbors.
His curiosity led him to explore many subjects as diverse as curing meats, to his keen eye for classic automobiles, his passion for historical novels — especially those about the British Navy — and even an interest in mason beekeeping.
Very few people on earth have seen every episode of Perry Mason; there's now one less.
In a similar vein, few people could say they played the piano, the French horn and mellophone, which Glen expertly played in high school, college, and then in community orchestras (The Honolulu Community Orchestra and the One More Time Around Again Band). He was a natural musician.
As his friends can attest, he was a moderately capable golfer, but his zest for that sport, in fact for life, was infectious.
He grew up in his family home in Monmouth and attended Central High School in Independence.
Glen was a proud graduate of the University of Oregon (Go Ducks!) where he met Rose and received both his Bachelor of Science and Masters of Business Administration degrees.
His professional career started in Turlock, Calif., with Rodger's Foods; then Oahu, Hawaii, working as an analyst for Dole Pineapple. He returned to Vancouver to work for Pacific Telecom and completed his professional career at Portland State University, from which he retired.
In addition to his wife and children, Glen is survived by his brother Dean Sedivy (Connie), of Monmouth; sister Nancy Boerem (Steve), of Florida; and grandchild Freya Marie Sedivy.
A celebration of Glen's life will be held at Our Lady of Lourdes School Gymnasium beginning at noon on Saturday, Aug. 19. The address is: 4701 NW Franklin St., Vancouver, WA 98663.
Memorial contributions may be made in Glen's name to The American Diabetes Association (In Memory tab); Our Lady of Lourdes School (lourdesvan.org); or the Humane Society for Southwest Washington.