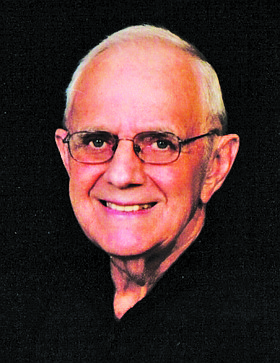 James Lawrence Fessler
November 8, 1936 - July 13, 2017
James (Jim) died from strokes caused by polycythemia vera on Thursday, July 13, with his wife at his bedside at Samaritan Hospice House.
He was born in Woodburn to Carl and Anne (Fisher) Fessler.
He grew up on a farm in Mt. Angel, attended St. Mary's Grade School and graduated from Mt. Angel Prep High School in 1954. He enlisted in the U.S. Air Force and served from 1954 - 1958 at Elmendorf AFB in Anchorage, Alaska, and MacDill AFB in Tampa, Fla.
Taking advantage of the GI Bill, he enrolled at OSU to study wildlife management, earning a Bachelor of Science in 1962 and a Master of Science in fisheries and statistics.
A career with the ODFW began in October 1962. He worked in the research division on steelhead on the Deschutes River, then in management, serving first as assistant supervisor of the northwest region in Corvallis, and the final seven years as regional supervisor of the southwest region in Roseburg, retiring in 1992.
As well as his professional career, he farmed and enjoyed gardening, plant propagation, fishing, hunting, wood working, wine making, Sudoku, reading and traveling.
He and Laura have visited all the continents except Africa and Australia,as well as "boondocking" on the beaches of Baja, Mexico, to fish in the Sea of Cortez for several years.
For many years they camped at fishing parks in Bandon and Waldport to fish for salmon. He was a life member of the American Fisheries Society, a 55-year Knight of Columbus and a member of St. Philip Parish in Dallas.
Jim met his wife, Laura Schmitz, in the second grade and married her in 1957.
Four children followed: Donald, Michael and Mark reside in Monmouth, and Anne lives in McMinnville with her husband Bruce. Surviving Jim are his wife, children, brother Leroy, of Madras, numerous cousins, and aunt Margaret Bauman.
He was preceded in death by his parents and brothers Richard and Ronald.
Jim was a good man — generous, faithful and committed to his Catholic faith. He participated in a study involving polycythemia vera in the hope of aiding in finding a cure.
A memorial Mass, with rosary preceding at 10:30 a.m., will be offered at 11 a.m. on Saturday, Aug. 5, at St. Philip Catholic Church, 825 SW Mill St., Dallas. Contributions in his memory may be made to Father Taaffe Homes, St. Philip Church, or charity of choice.
Arrangements are in the care of Farnstrom Mortuary. Memories and condolences may be shared at FarnstromMortuary.com.