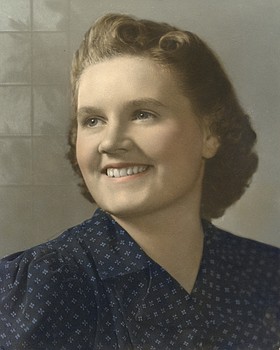 Flossie Mary (Goertz) Kliewer
April 8, 1923 - May 29, 2017
Flossie Mary (Goertz) Kliewer, a resident of Dallas Retirement Village, passed away peacefully on May 29, 2017, with her sons at her bedside.
Flossie was born on April 8, 1923, in Dallas, to parents Nick and Margaret (Wiens) Goertz.
She attended Dallas schools and graduated from Dallas High School in 1941. She was preceded in death by her parents; nine siblings; her husband Abe Kliewer; and their first baby Leslie James Kliewer.
Flossie and Abe were married on Feb. 2, 1943.
Abe worked for Willamette Industries as a grader until his retirement. Abe passed away in 1997. Flossie worked as a homemaker raising four energetic boys; she also worked for Agri-Pac in Salem for many years.
She was an active member of the Mennonite Brethren Church. She had a strong and loving commitment to God and the church as well as her family and many friends.
Flossie loved camping with the family during the summer vacations when her children were young; she passed on that love of the outdoors to her sons and grandchildren.
After retirement, she and Abe traveled to Illinois several times to visit family. They also visited Washington, D.C., and Hawaii.
Flossie is survived by her sons and their spouses: Phil Kliewer, Ken (Sheri) Kliewer, Steve (Sharon) Kliewer, and Mark (Renee') Kliewer; with seven grandchildren and eight great-grandchildren. Her eighth great-grandchild was born earlier this month.
Services will begin at 2 p.m. Saturday, June 10, in the Dallas Mortuary Tribute Center.
Private interment will be in the Dallas Cemetery. www.dallastribute.com.