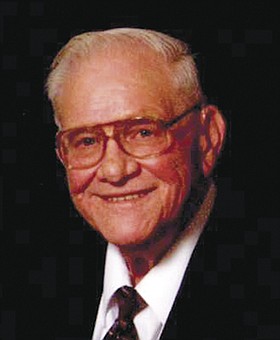 Jack McElravy
April 29, 1928 - June 9, 2017
Jack McElravy was born in Wolbach, Neb., on April 29, 1928, and passed away in Salem suddenly from cardiac arrest after a long battle with heart disease on June 9, 2017.
Jack was a 1945 graduate of Monmouth High School. In 1953, he graduated from Northwest Christian College in Eugene and was an ordained minister.
Because of his minister and judge status, he "married and buried" many people in the greater Monmouth and Independence area.
Jack held many jobs in his lifetime, but is best known for serving as city manager for the city of Independence in the 1960s and 1970s. He also served as municipal judge of Monmouth and Independence and was active in many civic organizations in the community.
Jack loved participating in and watching sporting events. He was a referee and umpire in the Salem area for many years. In 1953, he was on the AAU State Basketball Champion team playing for "Everybody's Drug" from Eugene. They went to the National Championship in Denver, Colo., and placed fourth in the nation. That same year the Eugene All-Star Team, of which he was a member, played against the Harlem Globetrotters.
In 1946, he married his high school sweetheart, Pauline Elkins. They divorced in 1977.
He married Ellie Turner in 1978. Jack and Ellie owned and operated a Monmouth restaurant "Captain Mo's." Jack also sold life and health insurance.
After Ellie's death, Jack married Patty Pedigo in 2006.
Survivors include his wife Patty; his children Sandra Schukar (Fritz), of Monmouth, Steve McElravy (Ann), of Monmouth, Linda Spansail (Craig), of St. Helens, Sue Brungardt (Rick), of Goodyear, Ariz., Jan Daher (Jim), of San Diego, and Rena Peck (Forrest), of Monmouth; stepchildren Shirley Davis (Rick), of Mesa, Ariz., Lori Coffman (Rob), of Eagle Crest, and Melinda DeRochier (Mike), of Redmond; 21 grandchildren; 30 great-grandchildren; and four great-great grandchildren. He is also survived by his sister Donna Wessel (Irvin), of Gates; niece Sharon Pointer (James), of Monmouth; and nephew Pat Manley, of Alaska.
Jack was preceded in death by his wife, Ellie McElravy; parents, Rex and Ruth McElravy; brother, Doane McElravy; and great-grandson, Jackson McKibben.
A celebration of life will be held at 2 p.m. on Tuesday, June 20, 2017, at the Green Villa Barn, 3215 Independence Highway, Independence, OR 97351. In lieu of flowers, the family suggests a contribution to Central Youth Sports.