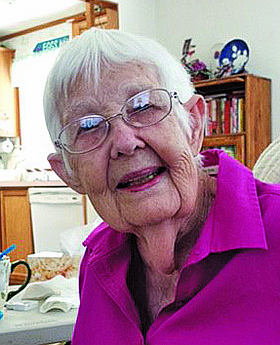 Audrie Catherine Turner
October 28, 1924 - March 4, 2017
Audrie Catherine Turner died peacefully in her sleep on March 4, 2017. She was 92 years old.
Audrie was born in Shamrock, Okla., on Oct. 28, 1924, to Andrew Lee Brittain and Jessie Halsted Brittain.
She married Claude Allen Turner on Feb. 14, 1940, in Oilton, Okla.
They lived in Oklahoma, Kansas, and California, before moving to Oregon in 1950.
Audrie had a gift of making the people around her feel loved and cared for. She was a loving and generous mother, grandmother, sister, aunt and friend.
She was very creative, and would share generously whatever she had.
She was a founding member of Egg Artists of Oregon, and taught her craft to many others.
She created two decorated eggs for the White House that now reside in the Smithsonian.
Audrie was preceded in death by her husband of 64 years, grandson, brother and two sisters.
She is survived by her children, Anna Gallaher (Edward), Kathryn Goe, David Turner (Becky), Clifford Turner (Kandace Brewer); 10 grandchildren; 23 great-grandchildren; 11 great-great-grandchildren; and numerous nieces and nephews. She is also survived by her family of choice, Carol Bispham Hashagin (Keith), Julie, Trevor, Matthew, Preston and Phil Krussow.
In lieu of flowers, please make donations to the Willamette Valley Hospice.
A memorial service will be at 11 a.m. on Saturday, March 18, 2017, at St. Hilda's Episcopal Church, 245 Main St. W., Monmouth, OR 97361.