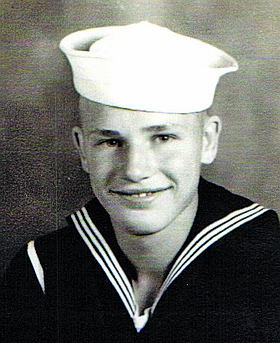 Robert "'Bob'" Guy Miller
November 12, 1926 - March 4, 2017
Robert "Bob" Guy Miller was 90 years young when he passed away on March 4, 2017.
Born in Sioux City, Iowa, to Martha Mae Harrison Wynn Miller Hixson and Guy Miller, on Nov. 12. 1926, he spent his young childhood years in South Dakota.
He dearly loved the Black Hills and recalled watching as the Mt. Rushmore monument was being carved.
Bob had six siblings and was the youngest. He has only one surviving sister, Delores Wynn Thompson, of The Dalles.
When he was a teenager, Bob and his family moved to Vancouver, Wash., where he attended Vancouver High School.
At the age of 17, he entered the Navy. While in the Navy he completed his high school education and received his GED.
He spent four years of active duty during World War II, and another four years of active duty in the Korean occupation.
He loved the destroyers he served on in WWII, but was not as fond of the cargo ship he was assigned to in the Korean occupation.
Bob started college at Vanport College in Portland, then after his stint in Korea, he returned to college at Pacific University in Forest Grove, where he graduated with a teaching/coaching degree in 1954.
Between his naval career and a return to college, Bob met and married his wife of 65 years, Evelyn Bonita "Bonnie" Updike Miller on Sept. 20, 1951.
They have two children. Marilyn Miller-Colistro, of Portland, and David Warren Miller, of Depoe Bay.
Bob began his teaching career in Cove, then relocated his family to Glide, where he taught and coached for eight years.
After Glide he taught and coached at Central High School in Independence. His final 23 years of teaching were at Whiteaker Middle School in Keizer, until he retired in 1989.
Retirement years were packed with lots of activities, mostly traveling in the motor home, camping with many friends, Good Sam friends and lots of family outings.
Bob loved hunting and fishing, reading, and listening to good music.
He always was a history buff, and enjoyed taking many classes and listening to lectures.
Bob dearly loved his children; wife; grandsons, Peter Colistro (Ashley) and Joe Colistro, both of Portland; and granddaughter, Natalie Ayre, of Honolulu, Hawaii.
He will be missed and is loved by all.
Memorial contributions are suggested to be made to Polk County Fire District No. 1, Independence, or Willamette Valley Hospice, Salem.
Private interment will be in Willamette National Cemetery with military honors.
Final arrangements are being made by Farnstrom Mortuary. Please share your memories and condolences at FarnstromMortuary.com.