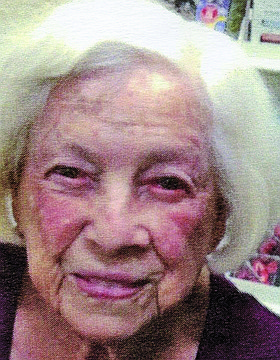 Mildred "Betty" Elizabeth Yoder Forry
January 19, 1913 - April 1, 2017
Mildred Elizabeth "Betty" Yoder Forry was born to Jess Vernon and Mildred Carter Yoder on the Yoder Five Points Farm a few miles south of Bellefontaine, Ohio, on Jan. 19, 1913.
She attended a rural one-room country school while they lived at the Carter's Twin Lakes Farm and Sulphur Springs Farm.
She started high school in London, Ohio; however, she graduated from Bellefontaine High School in 1930.
She received a Bachelor of Arts from Butler University in Indianapolis, Ind., in 1934.
She taught junior high English from 1935 to 1940.
On Feb. 3, 1940, she married James Edward Forry, and they lived in Chicago for almost one year. They celebrated New Year's Day of 1941 in San Diego. Jim had been recruited to work on military aircraft as a design engineer during and after World War II.
Their daughter, June Eileen, was born in San Diego in 1942.
They lived in Culver City, Santa Monica, and Topanga in the Los Angeles metropolitan area until 1965, when they moved to the tree farm at Pedee.
Betty taught a few years in the Culver City School District, spent a few years on a recurrent annual job for the Los Angeles County Tax Assessor.
She helped operate the family's Oakshade Borzoi and Whippet Kennels from 1952 until the 1990s.
The Forrys bred, trained, exhibited at dog shows and provided Borzoi for some movie appearances. Betty was widowed Sept. 2, 1991.
She enjoyed reading, crossword puzzles, sewing, music, friends, family and the dogs.
Survivors include her daughter, June Clark, also of Pedee; grandsons Patrick Clark, of Aurora, and Roger Clark, of Tacoma, Wash.; and great-granddaughter Britni Leigh Weiss-Clark, of Portland. Also surviving are sister-in-law Margery Forry, of Delaware, Ohio; a niece; two nephews; and cousins.
Betty was a member of the National Grange in Ohio, the Order of Eastern Star, Alpha Chi Omega sorority, Borzoi Club of America, and former member of the Santa Monica First Presbyterian Church.
Great-grandfather Harry Carter was a founder of the First Methodist Church in Bellefontaine.
Graveside service will begin at 2 p.m. on Saturday, May 6, in the Womer Cemetery in Pedee.
In lieu of flowers, donations may be made to the Guide Dogs for The Blind at P.O. Box 151200, San Rafael, CA 94915.
The Dallas Mortuary Tribute Center is caring for the family.
To leave a message or memory please go to www.dallastribute.com.