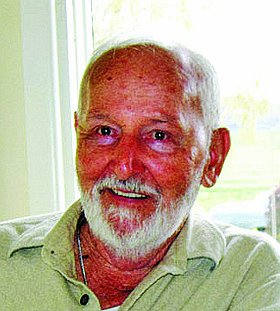 Robert Kelly Atkinson
August 4, 1926 - April 18, 2017
Robert Kelly Atkinson was born in Seattle and grew up in Bellingham and Kirkland, Wash.
Like many young men of his generation, he left high school for military service during World War II, volunteering for the Coast Guard.
He saw action in the Pacific Theater aboard LST 18, taking part in 10 invasions in New Guinea and the Philippines. Throughout his life, he was quietly proud of serving his country when it needed him most.
After the war, Bob became a carpenter and spent several years working in Alaska.
He met Ardith Betts in their hometown of Kirkland in 1954, and they married the following year.
Together Bob and Ardie raised their five children, living first in Bellevue, Wash., and then building their own home on Rose Hill in Kirkland.
He loved the outdoors, and shared that enthusiasm and sense of adventure with his family through their many camping, hiking, and fishing trips.
In 1989, Bob and Ardie retired and bought acreage on Fruit Farm Road in Independence, where they built another home.
Bob loved working in the yard there and doing woodworking and other crafts in his shop. Their home was the site of memorable gatherings for years as the family grew.
Bob spent his last days at the home he loved, with Ardie and his family near him.
Bob is survived by his wife Ardith and their five children: Theresa (Jeff), Mary, Tim (Amanda), Kelly (Gina), and Katie (Rick).
His 12 grandchildren will miss their Papa and will keep his stories and memory alive for a growing generation (presently eight) of great-grandchildren.
A memorial Mass will be held on Saturday, May 20, at St. Philip Catholic Church in Dallas at 11 a.m., preceded by a rosary at 10:30. A reception will follow the Mass in the parish hall.
Special thanks to Debbie Reid, who helped provide loving care for Bob and help for Ardie, allowing them to be together at home in the final year of Bob's life. Thanks also to the staff at Willamette Hospice for their support and guidance.
Remembrances in Bob's name can be made to the Oregon chapter of the Alzheimer's Association.
Dallas Mortuary Tribute center is caring for the family. To share an online condolence; go to: www.dallastribute.com.