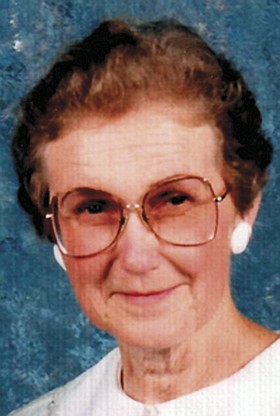 Nina Irene Wells Matthews
December 26, 1933 - December 26, 1933
Nina Irene Wells Matthews, age 83, died Saturday, May 13, 2017, in Las Vegas.
She was born Dec. 26, 1933, in Slater, Wy., to John Clarence and Phoebe Hirschy Moon.
On April 26, 1953, she married Gordon Commodor Wells in Stevenson, Wash. He preceded her in death on Aug. 6, 1986.
In 1991, she married Robert Donovan Matthews in Buena Vista. He preceded her in death in June 1998.
Nina grew up in Wyoming, moving with her family to Independence when she was 7.
She was married at 19, then later earned her Bachelor's Degree in Art and Education, and eventually her Master's Degree.
She loved teaching school and was a hard worker. She raised sheep and wove with the wool from the sheep she raised on the Wells family farm.
After she retired from teaching school, she volunteered as a tutor for struggling youth.
As a faithful Christian, she enjoyed teaching Sunday School and working with the youth. She enjoyed reading, fishing, and painting.
Survivors include her son, Stan Wells, of Logandale, Nev.; daughter, Susan Wells, of Helendale, Calif.; seven grandchildren; nine great-grandchildren; and one sister, Mary McKern, of Salem. She was preceded in death by two sisters and three brothers.
Memorial Services were held Saturday, May 20, 2017, at 2 p.m. at the United Methodist Church in Mesquite, Nev. Interment will follow on Saturday, June 3, 2017, at 1 p.m. in the Buena Vista Cemetery in Buena Vista. Friends and family are invited to sign the online guest book at www.moapavalleymortuary.com.