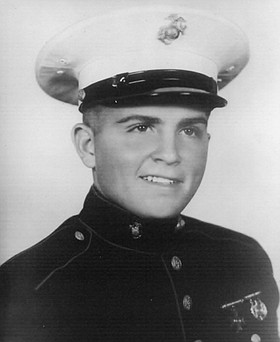 Charles "'Charlie'" D. Myers Jr.
September 2, 1934 - October 24, 2017
Charles D. "Charlie" Myers Jr., a resident of Dallas, died on Tuesday, Oct. 24. He was born on Sept. 2, 1934, in Florence, Ariz., the son of Charles and Amparo Myers.
Charlie attended Florence High School through his sophomore year. He then joined the U.S. Marine Corps at the age of 17. He served in VMO-2 and VMO-6, where he served with the latter in the Korean War. He was honorably discharged in 1955 at the rank of sergeant.
He then worked railroad maintenance of way for the Southern Pacific Railroad for 10 years.
Charlie married Marie Beal on Nov. 7, 1969. They were going to celebrate 48 years of marriage together.
He was a farmer and a logger. He logged throughout Northern California and Oregon, and was seriously injured in a logging accident at Detroit when a log rolled over him. He and his family moved to Dallas in 1977 to take care of Charlie's parents.
Shortly after the move, he began working at the Dallas School District in building and grounds maintenance. He once said if a part was broken and was no longer sold, he would take it home and machine a new part himself. Charlie was well liked and respected by his peers, and retired from the district in 1994.
Charlie had a love of his country, trains, dogs, and most especially his wife Marie. Charlie was an avid reader. He also enjoyed whittling and drawing. His realistic drawings and scale wooden models of ship and steam locomotives won many awards at the Polk County and Oregon State fairs. He had a D-6 CAT and made many ponds throughout Polk County. Never idle, even during his retirement, Charlie built a full-sized railroad on his property and was well known for inviting friends and children's groups to enjoy train rides and having picnics there. He insisted, "If my parents had only bought me a Lionel train when I was young — I would not have had to build my own."
He is survived by his wife, Marie; daughters, Pamela and Margaret; sons, William and Dan; along with numerous grandchildren and great-grandchildren.
He was preceded in death by his parents, Charles and Amparo Myers; and daughters, Diane and Connie.
Funeral Services were on Monday, Oct. 30, at 11 a.m. at Dallas Mortuary Tribute Center. Visitation will be on Sunday from 1 to 5 at Dallas Mortuary Tribute Center. Memorials may be made to the Wounded Warrior Project. To leave an online condolence for the family, go to www.dallastribute.com

Services for Charles D. Myers Jr.