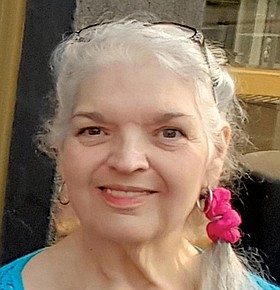 Michele Marie (Hemenway) Wooster
November 27, 1950 - October 15, 2017
Our beloved sister, mother, wife and friend fulfilled her earthly obligation in the early hours of Sunday, Oct. 15, 2017, at the age of 66.
Born in New Bedford, Mass., to Gilbert F. and Marie (Casey) Hemenway, the family relocated when she was very young to Southern California, where she grew up in the Los Angeles and Hollywood areas.
There she developed a love for horses and spent many afternoons and evenings riding horses from California and Pickwick Stables.
She received Jesus Christ into her heart at the age of 16. By 18, she was a young mother raising her only daughter with the love and support of her parents and her protective older brother.
She maintained a nurturing and comfortable home for the close-knit family, and was known in the Alhambra neighborhood as the Mom one could confide in and count on for wise counsel. Her nature was to nurture.
Michele was gifted with the heart of a philosopher, teacher and communicator. She had a great love of music, especially folk, Joni Mitchell and Paul Simon being two of her favorites.
In December of 1995, she married the love of her life, David "Randy" Wooster. They made their home in the San Bernardino Valley for two decades until relocating to Monmouth in 2013.
Blessed to be a homemaker for most of her life, she enjoyed arranging potlucks and game nights with her neighbors.
A talented cook, she loved to share her favorite recipes, feed friends and family, and, as she put it, "Chew the fat."
With several health conditions, she became a self-described "Professional Patient." Several cancers, including stage 4 Non-Hodgkins Lymphoma in 1995, and life-threatening surgeries were her biggest earthly challenges, yet she exhibited much strength and grace in battle.
She finally succumbed to sepsis and metastasized Pancreatic Cancer.
Her belief was that her complicated health was her opportunity to benefit the medical community, a noble sense that overruled bitterness.
A phrase she had taught her daughter at a young age was, "Noblesse oblige": The noblest oblige.
To know her was to love her.
If she knew you, she loved you too.
Preceded in death by her parents, she leaves behind her loving husband Randy Wooster, of Monmouth; daughter Vanessa Hemenway Gaiser, of Independence; brother Alan and sister-in-law Judy Hemenway, of Vancouver, Wash.; and family/beloved friends throughout the country.
A celebration of life/potluck is planned for Dec. 2 at 1 p.m. at Weekday School of the Bible, 1160 SE Holman in Dallas.
The family has invited her pastor, Thoren Sode from Berean Baptist Church in Independence, to share.
Farnstrom Mortuary is handling arrangements. Share memories and condolences at FarnstromMortuary.com.

Services for Michele Marie (Hemenway) Wooster
December 2, 2017

Funeral: 1 p.m.
A celebration of life/potluck is planned for Dec. 2 at 1 p.m. at Weekday School of the Bible, 1160 SE Holman in Dallas.