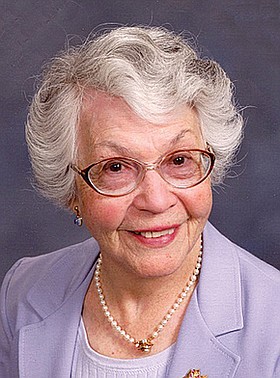 Tencha Maria Campbell
March 10, 1923 - October 26, 2017
Tencha Maria Campbell
March 10, 1923 – Oct. 26, 2017
Tencha Maria Campbell, of Dallas, passed away Thursday, Oct. 26, 2017, at the age of 94.
She lived an incredible life.
In 1923, Hortensia "Tencha" Maria McCarthy de Zelaya was born to an Irish father and Spanish mother in the tiny town of Sabana Grande, Honduras.
Tragically, both parents died a few years later. Nuns at a local Catholic orphanage took Tencha in and raised her from a toddler to a young adult.
In 1940, Tencha became a dental assistant. And seven years later, met her future husband — a North American electrical engineer named Lloyd Campbell — when he came in for some dental work. The two married a year later. And two sons quickly followed, John and George.
For the next 30 years, Tencha traveled widely and lived in various mining camps throughout Central and South America. She sailed on a cargo ship through the Panama Canal, flew in a bush plane over the Amazon jungle, and took a road-rail vehicle across the Atacama Desert.
In 1980, Tencha and her newly retired husband moved to Dallas. The two never moved again. (Her husband, Lloyd, passed away in 1996.) Here she developed deep friendships and fell in love with the church community of St. Phillip.
Tencha wishes for everyone to think positive, and in her own words, "… be happy, I'm with God!"
Survivors include sons John (Lori) Campbell and George (Terrance O'Shea) Campbell; grandchildren Kate (Per Olstad) Campbell and Bradley Campbell; and great-grandchildren Eva Campbell and Hank Campbell.
A rosary will be held at 10:30 a.m. with a memorial service to follow Thursday, Nov. 9, at 11 a.m. at St. Phillip Catholic Church, 825 SW Mill St. Dallas. A reception at St. Phillip will be held after the service.
Charitable gifts in lieu of flowers can be given in Tencha's name to the Altar Society of St. Phillip Catholic Church. Dallas Mortuary Tribute Center is caring for the family. To share an online condolence, go to: www.dallastribute.com.