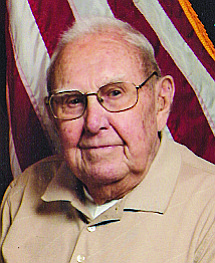 Arthur Eugene Mosher
June 6, 1922 - November 21, 2017
Arthur Mosher passed away on Nov. 21 in Portland. He was 95.
Art was born in Hot Spring, S.D., in 1922. His family owned a dairy farm, and Art and his brothers and sister all helped out on the farm. The family moved to Oregon during the latter part of the 1930s, settling in Yamhill County. Art lived with a family in McMinnville during high school and graduated from McMinnville High.
Following school, he joined the Navy and, while on a leave, married Elizabeth Wilkinson, whom he had met while visiting relatives in California. Art served in the Pacific during World War II, assigned first to the Indianapolis and then the Pittsburg. He was honorably discharged from the Navy in 1945 with the rank of gunners mate first class.
Art and Elizabeth moved to the Yamhill-Carlton area, where he initially worked on a farm, then raised turkeys and worked for a Carlton lumber company. The company was acquired by Willamette Valley Lumber Company, and Art and family moved to Dallas in 1956. At Willamette, he worked as a land surveyor and eventually became resident logging and construction engineer, managing timber sale property lines and laying out logging roads on Willamette property.
Art and Elizabeth were very active in the Dallas community. He served on the Dallas Planning Commission and was elected to Dallas City Council in 1982. They were both very active in the Polk County Historical Society, especially with Brunk House, and provided time and support for the construction and development of the Polk County Historical Society Museum at the county fairgrounds in Rickreall. After he retired he made deliveries for Meals On Wheels.
They were members of the Dallas Presbyterian Church, with Art serving in various lay roles.
In 2005, they were honored by the Dallas Chamber of Commerce jointly being named Dallas Good Samaritans.
He was a fly fisherman, climbed mountains, enjoyed woodworking and gardening and, after retirement, became an avid golfer. He enjoyed RV camping with family and friends throughout Oregon and regularly made winter trips to California and Arizona. He enjoyed sports and was a Dallas High booster.
Most of all Art and Elizabeth had great friends, and there was nothing they loved more than spending time with friends and family. Their home was always filled with love and joy, and all were genuinely welcome. They offered love and support to many young people in their church and the community throughout their lives.
Following Elizabeth's passing in 2007, Art moved to Dallas Retirement Village, where he continued his life of service, becoming a resident representative on the DRV steering committee. Additionally, he spent much of his free time visiting with and lending his support to other residents.
He is survived by sons Alan (Vicki Vondross) and David (Christine); and daughter Jane Petersen (David); five grandchildren; and eight great-grandchildren.
The family suggests remembrances be made in Art's name to the Polk County Historical Society or Meals on Wheels.