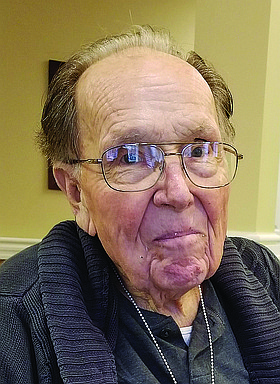 Gordon Comstock English
February 7, 1922 - unknown
Gordon Comstock English was born in Van Nuys, Calif., on Feb. 7, 1922, to Albert English and Theo Darling English. He attended Laurel Grade School, Bancroft Junior High, and Fairfax High School, where he graduated with the Winter Class of 1941. Gordon had a sharp mind, enabling him to solve difficult problems and figure out how things worked often using creative ingenuity to fix them. One time he built his own kayak and engineered a way to tow it behind his bicycle for the 17-mile ride to Santa Monica from his home.
While in high school, Gordon developed a passion for flying racing pigeons. He also worked for Harlan C. Palmer, publisher of the Citizen News, as a paper boy, assistant cashier, and account manager. As America's involvement in World War II escalated and with an impending draft, Mr. Palmer suggested Gordon might benefit the war effort by joining the signal corp and using his pigeon racing experience to help the troops communicate with one another. After careful consideration, Gordon chose to attend trade school and study airplane mechanics, which eventually propelled him to become a lead mechanic for Pan American Airlines and earned him special recognition for the provision of vital air transportation under contract to the United States Navy. As a supervisor of Lockheed Vega, Gordon noticed one of the original Rosie the Riveters on the assembly line. He fell in love with her and asked this lovely Puerto Rican woman to become his wife.
After the war, Gordon used his mechanics skills and expertise to open his own machine shop, Angor Precision Products Inc. In 1964, Gordon moved his family to Dallas, built their beautiful family home, and continued operating his machine shop.
A change of occupation came in the early '70s. Gordon earned his real estate broker's license and began working at Hildebrand and Kromer Realty. Within two years, he became the owner/broker of Angor Realty, successfully selling and managing real estate, including his own. Gordon sold the business to his eldest son in 1995.
Gordon and Ana enjoyed traveling to places such as Hong Kong, Spain, Puerto Rico, Mexico, Canada, Western Europe, St. Thomas, as well as many places around the USA. He even flew a small plane with a somewhat reluctant co-pilot, Ana, on some journeys as well.
Gordon flew racing pigeons for nearly 40 years. His reputation earned him the honor of providing his pigeons to be released at the 1960 Squaw Valley Olympics. In 1962, he was presented the Outstanding Flyer of California by Walt Disney. Over the years his homers were champions, flying distances from 200 to 600 miles. Gordon had many other hobbies including bowling, baseball, stamps, coins and family genealogy.
Gordon was a dedicated family man and friend to the community. He was always there to lend a hand to someone in need. He volunteered substantial time to building the current grandstands at the Dallas High School football field, receiving a lifetime pass to all Dallas High School home football games. He was a member and past president of the Dallas Rotary Club, where he earned a certificate for 47 years of perfect attendance. He served on the state Boundary Commission under Tom McCall, Ash Creek water district, and the Polk County Board of Realtors.
Gordon joined the congregation of Trinity Lutheran Church in 1964. He served as a board member; helped with the remodel of the Washington Street building; arranged for lectors for many years; and negotiated the deal for the property this new building sits on.
Gordon's wife, Ana proceeded him in death on Nov. 20, 2012. They were married for 67 years. He lost his beloved grandson, Joshua English, in 2000. He is survived by his four children: Gordon English Jr., of Dallas, and his wife, Virginia; Virginia (Ginny) Kirk, of Dallas; Nancy Kinder, of Stockton, Calif., and her husband, Johnny; and Greg English, of Rockaway Beach, and his wife Joellyn; along with eight grandchildren; and 18 great-grandchildren.
Services were held on Saturday, Nov. 25, in the Trinity Lutheran Church with private interment in the Salt Creek Cemetery.
The Dallas Mortuary Tribute Center is caring for the family.
To leave an online tribute: www.dallastribute.com.