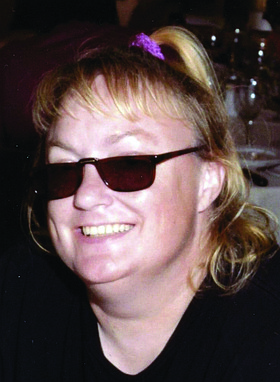 Jamie Leigh Esquer
June 4, 1959 - September 26, 2017
Jamie Leigh Esquer, 58, a resident of Dallas, died Tuesday, Sept. 26, 2017, at her home. She was born on June 4, 1959, in Santa Rosa, Calif., the daughter of James and Katherine Louise Markham Gardner. She was schooled in California and moved to Dallas in 2007.
On Sept. 22, 2007, she married Jose Angel Esquer in Dallas. She worked at Sears and in banks, but truly loved being an artist. She did jewelry, glass cutting, rocks and other arts and crafts.
She is survived by her husband Joe; daughter Micah Rae Hooey; stepdaughter Joslese Esquer; mother Katherine Andrus.
A memorial service was held at 1 p.m. on Tuesday, Oct. 3, in the Dallas Mortuary Tribute Center. Private interment will be in the Dallas Cemetery.
To leave a message or memory for the family, please go to www.dallastribute.com.