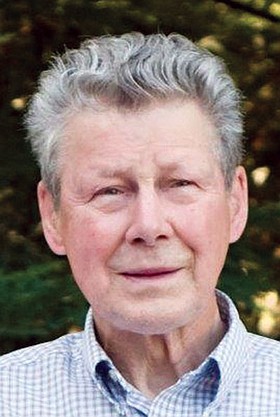 Vernon Lloyd Balsbaugh
June 13, 1929 - September 17, 2017
Vernon Lloyd Balsbaugh went to be with his Lord and Savior, Jesus Christ, on Sept. 17, 2017.
He was born June 13, 1929, near Flint, Mich., to Lloyd and Ruth (Swisher) Balsbaugh, the sixth of nine children.
Their family moved to Ohio when he was 12, and then at age 15 he drove one of the two family cars as they moved to Modesto, Calif. He graduated from Modesto High School in 1947.
Vernon accepted Jesus Christ as Savior and Lord and was baptized on June 29, 1947.
On Aug. 12, 1950, he was united in marriage to Marilyn June Landes, daughter of Edgar and Eva (Gantt) Landes.
In March of 1963, they moved their family to Dallas, where they resided for 49 years before moving back to Modesto in June of 2012.
Vernon spent his working life in sales and design.
He was always working on an invention of some kind and owned several patents. He was an avid hunter and garage sale enthusiast.
Most of all, he loved the Lord, was a student of the Bible, and loved serving his church family in Modesto, Dallas and Perrydale.
He was preceded in death by two grandsons, Zachary David Balsbaugh and William Lloyd Balsbaugh; one great-granddaughter, Olivianna Grace Grover; brothers John, Ray, Carl, David; and sisters Esther and Doris.
He is survived by his wife of 67 years, Marilyn; son Brian and wife Laurel, of Escalon, Calif.; daughter Connie Grover and husband Phil, of Modesto; daughter Jeanette Danielian and husband Robert, of Dallas; son Michael and wife Melodie, of Fullerton, Calif.; 10 grandchildren and 12 great-grandchildren. He is also survived by sister Mary Gish and husband Roger, of Modesto; and brother Hubert Balsbaugh and wife Janet, of Englewood, Ohio; and sister-in-law Loveda Balsbaugh, of Brookville, Ohio.
Services were as follows:
Viewing: Saturday, Sept. 23, 4 to 6 p.m. at Deegan-Ripon Memorial Chapel, 111 Palm Ave., Ripon, Calif. Interment: Sunday, Sept. 24, 1:30 p.m. at Wood Colony Cemetery, 3511 Dakota Ave., Modesto. Memorial Service:
Sunday, Sept. 24, 3 p.m. at Big Valley Grace Church, 4040 Tully Road, Modesto.
In lieu of flowers, donations may be sent to Restore My Soul Ministries, P.O. Box 341, Dallas, OR 97338, or online at restoremysoulministries.org (Nonprofit ministry of daughter Jeanette Danielian).