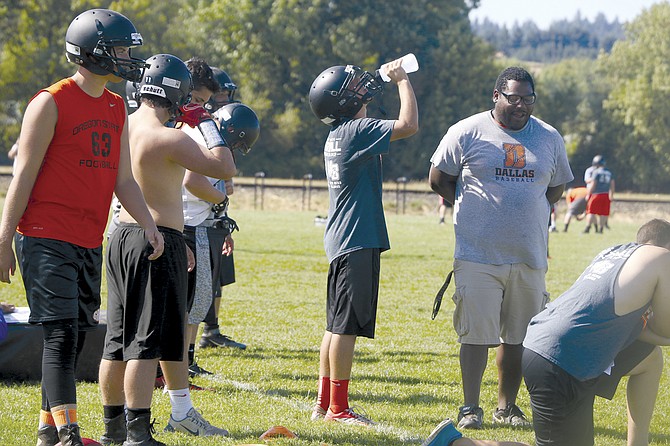 Dallas football coaches make sure players stay hydrated throughout practice.
Stories this photo appears in:

High school and college teams take extra precautions for safety
POLK COUNTY — The fall sports season officially kicked off on Monday. As players and coaches gathered to prepare, they were greeted by an unwelcome, and dangerous, guest — the heat. Temperatures reached into the 90s on Monday and Tuesday and a heat advisory went into effect on Tuesday through Wednesday (today) until 6 p.m. Facing temperatures nearing triple digits, coaches are taking special precautions, regardless of the sport. For Central cross-country coach Eli Cirino, beating the heat means runners are up early each morning for practice to avoid the peak temperatures. "Most of the summer, we run at 9 a.m.," Cirino said. "The heat scares the heck out of me, especially when kids are running different routes and I can't keep track of them all at the same time." For runners, whose workouts include going on distance runs, Cirino ensures his runners are aware of the temperature and how hard they should be pushing themselves in the heat.