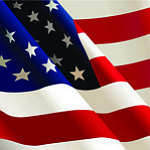 Flag of the United States of America
Stories this photo appears in:

Independence Elks Lodge helps establish a drop box for faded, old flags
When an American flag is worn and aged, it shouldn't be tossed in the trash with the other household garbage.

Veterans need more services
This day, and for the whole year, consider thanking veterans with more than just a handshake.

Our nation's Declaration of Independence
When, in the course of human events, it becomes necessary for one people to dissolve the political bands which have connected them with another, and to assume among the powers of the earth, the separate and equal station to which the laws of nature and of nature's God entitle them, a decent respect to the opinions of mankind requires that they should declare the causes which impel them to the separation.