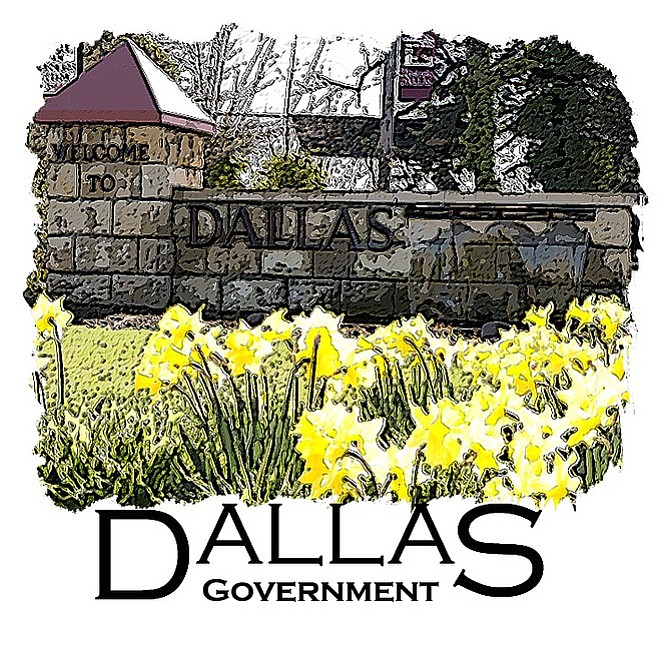 City of Dallas
Stories this photo appears in:

The proposed 2017-18 budget for the city of Dallas adds more staff and reflects a belief that unemployment will remain low and housing growth strong.

AJ Foscoli is ready to join Dallas' business development "team."
The city of Dallas' new Public Works Director Frank Anderson capped his first day on the job meeting the Dallas City Council at its meeting Monday night.
City interviews seven economic development director candidates
Adding to the focus-on-the-economy theme in Dallas in 2017, the city is looking for someone to fill a new position: economic development director.
After hazardous weather and driving conditions prevented Dallas' auditor from visiting with the Dallas City Council in January, she was able to give her fiscal year 2015-16 audit report Feb. 21.

The city of Dallas is reviewing a compromise to begin a business registration in town.

It wasn't that Dallas City Manager Ron Foggin applied for another job, but how some Dallas City Council members found out that was the topic of a special meeting Monday night.
The Dallas City Council approved rate increases for water and sewer utilities on Dec. 5.

Two incumbents among those who grab the five open seats in the race
After the Nov. 8 election, the Dallas City Council will welcome three new councilors and say goodbye to one who has served more than three decades.
The city of Dallas will make minor adjustments to its Transportation Systems Plan to update project lists and costs, making calculating system development charges easier.

The city of Dallas is named in a lawsuit that alleges wrongful death of a 2-year-old boy in October 2014.

Michael Holland was appointed by the Dallas City Council Monday night to fill the vacancy left by councilor Murray Stewart's resignation.

The city of Dallas is seeking citizens interested in serving on the Dallas City Council.
By Itemizer-Observer staff report
June 29, 2016

The Dallas City Council is slated to adopt is 2016-17 budget at its meeting Monday evening.