Welcome to the Polk County Telephone Directory
These yellow pages contain business and professional listings for the Polk County area, including Dallas, Monmouth, Independence, Falls City & Rickreall.
Please use the alphabetical index to find the category of a business or service.
You may also click the image below or click here to bring up a searchable and downloadable version of the full directory. You may download the directory to print or browse offline. You may search the contents of online version by pressing Ctl+F to bring up your browser's search bar.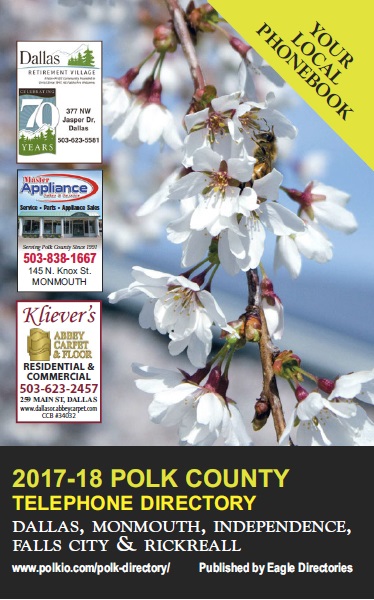 Our goal is to include all businesses in these areas, and a free listing is available to any business, including cell phone users. If your business is not listed, or to make changes to an existing listing, fill out our error reporting form and we will endeavor to include you in the online product.
Our office is located in Dallas, Oregon. Our directory is printed by Eagle Web Press, Salem, Oregon. We take pride in producing a product that is responsive to the needs of our advertisers and the community members who use this directory.
Please contact us with any questions or suggestions, at 503.623.2373, or use our online form.
For Yellow Pages advertising information, call 503.623.2373, or use our online form.