Itemizer-Observer
DALLAS — When Dallas Police Chief Tom Simpson learned of the #8cantwait campaign, and the police policy changes it was advocating, he was surprised more departments didn't already have them in place.
#8cantwait is a project of Campaign Zero, an organization calling for reform of police practices. Among the changes it is seeking are: banning chokeholds, making it mandatory for officers to intervene in situations where excessive force is being used, emphasizing de-escalation techniques, and requiring officers to give verbal warnings before using deadly force.
Dallas — like Monmouth, Independence and Polk County Sheriff's Office — use most of the eight initiatives, and have for some time.
"Even though our existing policy manual has been in place for several years, most of what is recommended in #8cantwait isn't foreign to us and has been included in our practice or policy for years," Simpson said.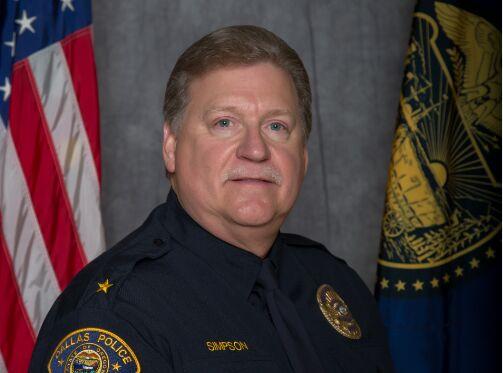 Protests and calls for police reform have intensified since the death of  George Floyd, a Black man who died in May while in police custody in Minneapolis. A Minneapolis officer knelt on Floyd's neck for nearly nine minutes. He, and the other officers involved in the incident have been charged.
Locally, police agencies have fielded questions about their practices and hosted community forums to hear concerns.
Current estimates have Dallas demographics at 92 percent white, 5 percent Hispanic or Latino, 2 percent Asian, and less than one percent Black. Dallas police department has 21 sworn officers, three of which are women, one of Hispanic descent and one of Asian descent. Two are bilingual (Spanish and English) and four are military veterans.
Simpson said that Dallas' policies last had a comprehensive revision in 2010, but he is personally in the process of updating it again.
"For the past several months, I have been working on a review of a comprehensive update of our department policy manual, which includes making a transition from our old locally created manual to the Lexipol online system of model policies," Simpson said. "Our use of force policy is one which will be completely reviewed and updated as part of this process."
Simpson said Lexipol is a company which many police agencies subscribe to that provides model policies that comprehensive and state-specific. A group of public safety lawyers and law enforcement experts write the policies.
"Lexipol policies are carefully researched and continuously updated to comply with the most current federal and state legal standards and best practices," Simpson said. "Updates are provided to agencies on a regular and ongoing basis."
As Dallas is a small agency, Simpson doesn't have a staff member to dedicate to the transition in policies, he has taken on the task himself.
"This is a very time-intensive process, but in my opinion, worth it in the end," he said.
Using de-escalation techniques, one of the 8cantwait initiatives, will be addressed specifically in Dallas' policy update, but officers are already trained to emphasize de-escalation.
"We do this whenever it is possible and reasonable; and, officers are trained for this during the basic academy," Simpson said. "Officers are also provided crisis intervention training (CIT) as it becomes available, which incorporates de-escalation techniques."
Simpson said about half of the department's officers have been through CIT training. New officers will all go through CIT training. Dallas also works with two mobile crisis intervention teams in Polk County that can assist on behavioral health-related situations.
"Our trainers try to integrate de-escalation techniques in many of our training scenarios," Simpson said. "Examples include firearms training, defensive tactics and scenarios involving the interactions with persons experiencing mental health challenges."
Dallas' policies and practices don't incorporate a "use of force continuum," as it is not included in police training at the Department of Public Safety Standards and Training, which certifies new officers. Simpson added that when agencies did use a continuum – the objective of which is to reserve the most severe types of force to extreme situations – it resulted in more officer and suspect injuries.
That is due to officers using methods lower on the matrix that were ineffective because they were a required step in the continuum.
"In short, requiring officers to try lesser methodologies first off was ineffective and it took longer to effectively control the physical resistance encountered," Simpson said. "By no means did the elimination of the matrix allow officers to an inappropriate level – officers are required to use only that amount of force which is reasonably necessary to be effective."
"Objective reasonableness" is defined by case law and is taught to new officers at DPSST.
Dallas officers are required give verbal warnings before using deadly force, when feasible. Verbal warnings are incorporated into firearms training, which is held quarterly.
Policies don't ban the carotid hold or restraint, also referred as the chokehold, but is it only authorized for Dallas officers is situations were deadly force is allowed.
"This was previously an approved technique under the old manual and our officers were trained on it; however, it was seldom utilized," Simpson said. "With the recent focus on this technique and during a discussion with area law enforcement administrators, at least a couple of us decided to amend our policies to allow the technique only when deadly force is authorized."
Simpson noted that a new state law is very similar to that adopted policy.
Another #8cantwait initiative is prohibiting officers from shooting into a moving vehicle, unless that person is a deadly threat. Simpson said the Dallas' policy is consistent with that directive and the policy update will include broader language on the topic.
#8cantwait recommends agencies adopt policies that requires officers to exhaust all other alternatives before using deadly force.  Dallas has a policy making this mandatory, Simpson said. Officers are also required to intervene if they witness another officer using excessive force.
"Officers are trained for this and we do this in practice," Simpson said. "Frankly, never using excessive force is a part of our code of ethics which every Oregon officer raise their hand to attest to."
Reporting of all uses of force, another item on the  #8cantwait list, is required, per department policy.
Simpson said he hopes the nationwide discussion about and revisions to police policy result in improved transparency and community relations. He said in the past law enforcement officers and officials may have taken it for granted that the citizens they serve understood how officers are trained and are required to do their job, which includes regular review and assessment of officer performance in an effort to find ways to do things better.
"In reality – based on recent questions posed – this is simply not the case," Simpson said. "We are trying to do a better job of communicating with those we serve to help them know and be more comfortable with policing in our community."
Use-of-force incidents by year
2018 — 45
2019 — 32
2020 — 15
Dallas Police Department deadly force incidents since 1987
• June 1994 – an officer-involved shooting that was investigated by an outside agency. The officer involved was cleared by a grand jury and the shooting was ruled justified.
• November 1995 – an officer-involved shooting that was investigated by an outside agency. A grand jury didn't bring charges against the officer and the shooting was deemed justified.
• December 2016 – an officer-involved shooting investigated by Oregon State Police. Involved officers were cleared by a grand jury and shooting was ruled justified. A Dallas officer was shot by the perpetrator during the encounter.
• September 2019 – an officer-involved shooting that was investigated by Salem Police. A grand jury cleared the officers and the shooting was ruled justified.
This is the last article in a series exploring use-of-force policies at Polk County police agencies