Joanne K. Johnson was born in Pedee, Oregon to Frances "Jahn" Phillips and Chuck McDowell. Joanne died in her sleep on June 10, 2020 of Congestive Heart Failure. At the time of her death she resided in Junction City, Oregon, with her husband Glenn Johnson and daughter Debbie Kinsey. Joanne's sister Carol Jones, and brother Leslie Phillips survive her and live in Dallas, OR.
Joanne's surviving children are: Debbie Kinsey, Peggy De Groot, Jodi Wygle from Junction City, OR., Greg Johnson of Blodgett, OR., and Lori Lillie of Allyn, WA.. Glenn Douglas Johnson, her 3rd child, died when he was only a few weeks old of a heart abnormality.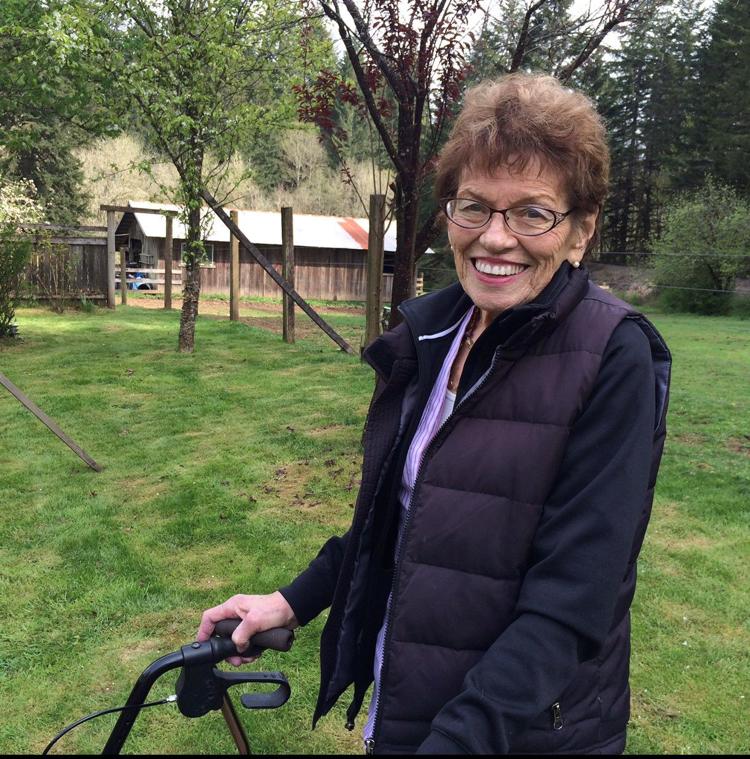 Glenn and Joanne had 6 children, 19 Grandchildren, 27 Great Grandchildren, and 7 Great -Great Grandchildren at the time of Joanne's passing.
Joanne's family moved from her birthplace in PeDee to Dallas, OR., where she graduated High School – Joanne and Wes Ediger were voted "Most Athletic" of their 1951 Class. She loved Volleyball. Joanne married Glenn and after a couple of years they moved their family to Corvallis.
In 1971 the Johnson family moved to Blodgett, OR., where they lived until moving to Junction City, Or. in 2015. Joanne loved her life in Blodgett. She had acreage, horses, a river on her property, and a garden. She worked at the Blodgett & Philomath School Districts until her retirement. Joanne was a member of the Blodgett Community Church, where she taught Sunday, Bible School and Child Evangelism. She was a volunteer EMT for the Blodgett area. She loved to can, bake, garden, and sew. Joanne loved watching Basketball. Her teams were the Trail Blazers, Oregon Ducks, and Beavers.
In 1977 Joanne fully dedicated her heart to following Jesus, her Lord and Savior. She remained faithful unto her last breath in fighting the good fight of Faith. Her favorite Bible Passage was: "Let not your heart be troubled neither let it be afraid" John 14:1. Daily she would encourage herself and others with the words to her favorite song, "This is the Day the Lord has Made, I will Rejoice and Be Glad in It."